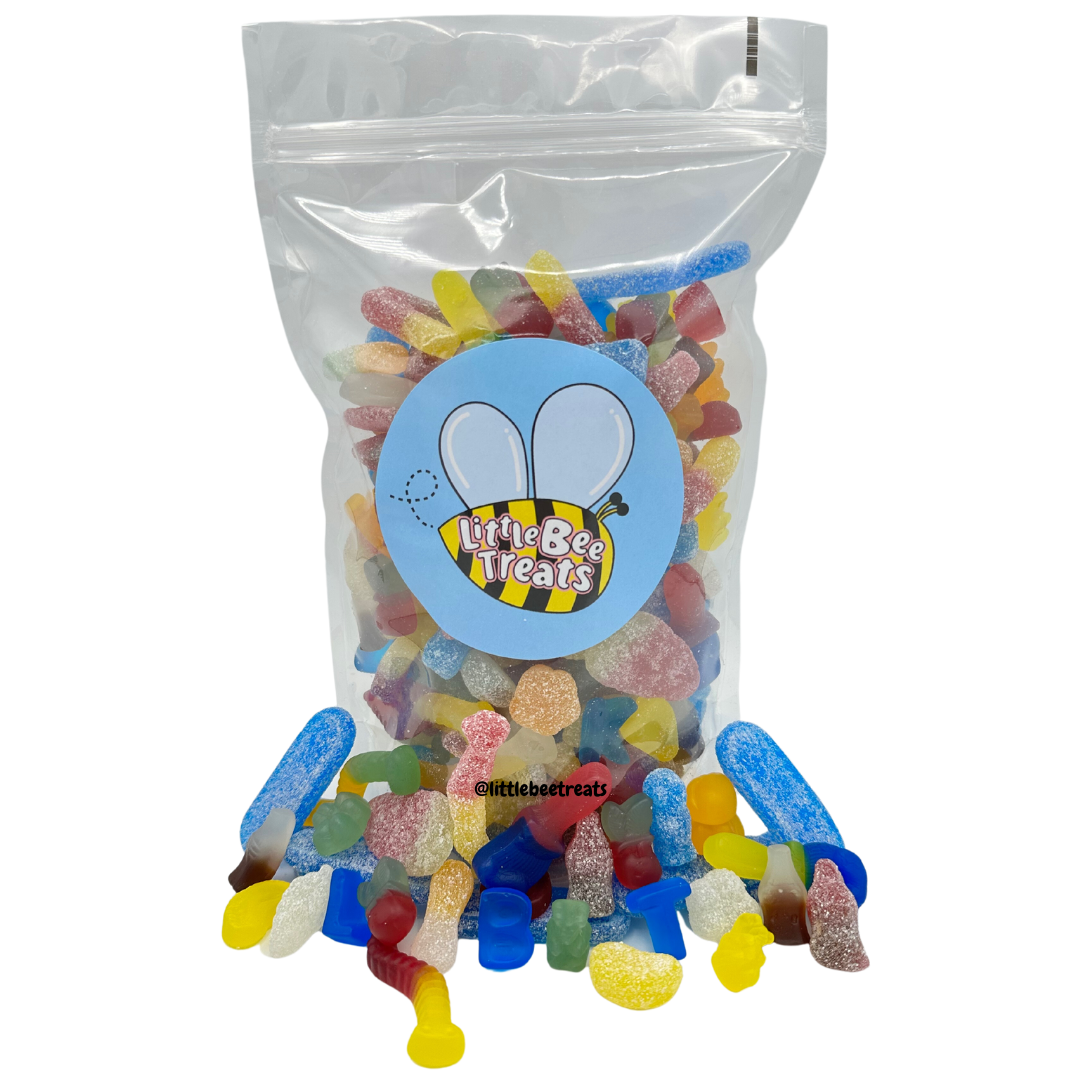 Bee Fizz 'n' No Fizz (Vegan)
Looking for a sweet treat that won't harm the planet or your health? Look no further than Little Bee Treats' Vegan Fizzy & Non Fizzy mix! This pick and mix assortment of fizzy and gummy sweets is perfect for any vegan diet, and it's sure to satisfy your sweet tooth cravings.
Whether you're in the mood for something fizzy or non-fizzy, our Vegan Fizzy & Non Fizzy mix has got you covered. Typically contains tongue painters, fangs, worms, meerkats, bottles. Please note that the specific assortment may vary depending on stock and availability, ensuring each bag is a delightful surprise. With a variety of vegan sweets in stock, this pre-set sweet mix is a surefire way to indulge in your sweetest fantasies.
Our sweet bags online make it easy for you to buy sweets online and get them delivered straight to your doorstep. You can choose from our personalised sweets to create your own mix, or simply enjoy our Vegan Fizzy & Non Fizzy mix as is.
Allergen information is important to us, so we want to make sure you're aware that our Vegan Fizzy & Non Fizzy mix contains gluten. For more detailed information about allergens and ingredients, simply head over to our allergen & ingredient page.
Our Vegan Fizzy & Non Fizzy mix comes in a variety of different sizes, from 500g mini to 2kg maxi, so you can choose the perfect size for you. And don't worry about the packaging - our products come in a thick resealable pouch that can be reused, so you can enjoy your sweet treats again and again.
At Little Bee Treats, we take pride in our sweet shop online and aim to provide 5 star service to all our customers. So why wait? Treat yourself to our Vegan Fizzy & Non Fizzy mix today and get ready to indulge in the sweetest of treats!
Contains WHEAT, GLUTEN. May contain traces of MILK.
Glucose syrup, sugar, modified starch (corn, WHEAT, potato, tapioca) WHEAT starch, water, pectine, acidifier (lactic, malic, citric acid, sodium malate), acidity regulator: sodium citrates, colouring (E100, E141, E133, E150c, E160c), colours: curcumin, Brilliant Blue FCF, paprika extract, colouring foodstuff (black carrot juice), Fruit and Vegetable Concentrates: Safflower, Spirulina, Blackcurrant, Carrot, flavouring, vegetable oil (coconut), glazing agent (carnauba wax).
Due to the nature of the product, we do not accept returns.

All orders are processed and dispatched within 1 to 2 working days (excluding weekends and holidays) after receiving your order confirmation email. You will receive another notification when your order has shipped. 

Please ensure the shipping address is correct or this will result in delays receiving your order. We are not liable for postage charges due to the wrong shipping address.

We are not liable for 'missed/failed deliveries'. In the event you have missed your delivery and the order is returned to us, you will receive a refund, minus delivery and a 10% restocking fee.