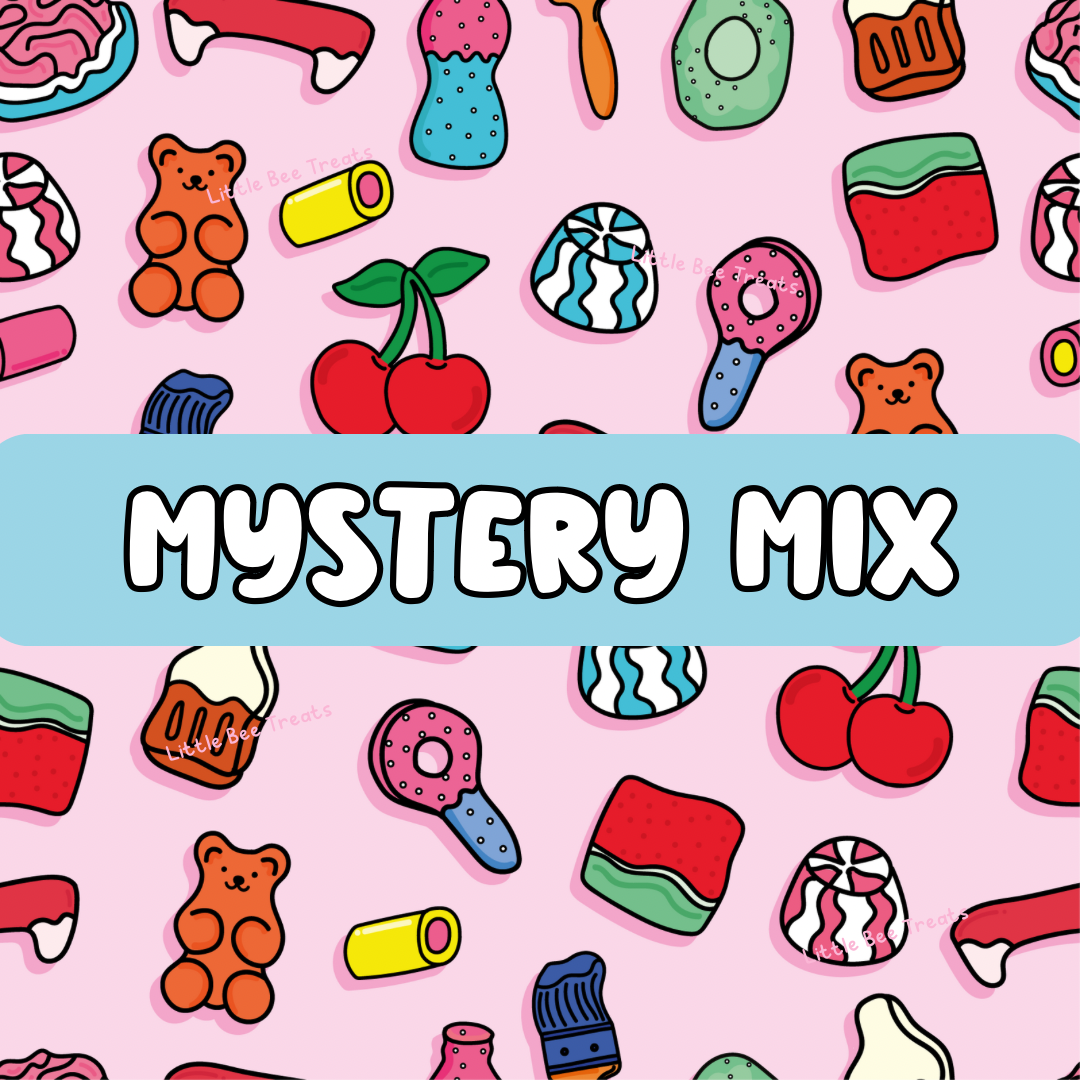 Bee Mysterious
Welcome to Little Bee Treats, the buzzing online sweet shop where dreams come true and sugar reigns supreme! Are you ready to embark on a delightful journey of confectionery surprises? Hold on tight, because we're about to introduce you to our extraordinary creation: the one and only Mystery Mix!
Picture this: It's a warm summer's day, and you're sitting in the shade of a big oak tree, eagerly unwrapping a parcel from Little Bee Treats. As you open the package, a wave of sweet nostalgia washes over you, bringing back memories of childhood joy and endless possibilities. The Mystery Mix is like your very own treasure chest filled with delectable pick and mix sweets, each one handpicked with love.
But here's the twist: With the Mystery Mix, you never know what you're going to get! It's like diving headfirst into a candy wonderland, where every bite is an exhilarating surprise. Will you uncover a rainbow of fruity jellybeans, tangy sour worms that make your taste buds dance, or perhaps the ever-so-popular fizzy cola bottles that tickle your tongue? The possibilities are as vast as the night sky sprinkled with edible stars.
Our mix specialists, armed with their magical wands (or rather, tongs), curate each Mystery Mix with unparalleled care and creativity. They might select one of our pre-set sweet mixes, like "Blue Raspberry" or "Fruity Mix" or they might even craft an entirely unique blend, just for you! It's like having your own personal sweet sommelier, dedicated to tickling your fancy and tantalizing your taste buds.
But wait, before you embark on this sweet adventure, we must remind you that the Mystery Mix is not suitable for those with allergies. It's a symphony of flavors that might contain traces of allergens, so we recommend checking out our allergen page for all the nitty-gritty details. Safety first, fellow sugar enthusiasts!
Now, let's talk about the magic of our resealable pouches. Not only are they perfect for keeping your Mystery Mix fresh, but they're also incredibly durable and versatile. Once the last delectable sweet has vanished into your happy belly, don't be quick to toss away the pouch! Give it a second life—use it to store trinkets, organize your craft supplies, or even keep your secret stash of emergency sweets. The possibilities are as endless as your imagination!
At Little Bee Treats, we pride ourselves on delivering a 5-star experience to every customer. From the moment you step into our virtual sweet shop, you'll be greeted with a delightful array of customisable sweet bags and pre-set mixes. We've made it easier than ever to buy sweets online and personalize your very own sweet adventure. And the best part? We'll deliver your sweet surprises straight to your doorstep, with the care and attention they deserve.
So, dear sweet-toothed friend, are you ready to unlock the mystery and indulge in the pure joy of the unexpected? Step into our virtual aisles, select your desired pouch size, and let the Mystery Mix work its sugary magic. But remember, this journey is not for the faint-hearted—only those who embrace the sweet symphony of surprise should embark on this whimsical adventure!
Little Bee Treats, where pick and mix dreams come true, and every Mystery Mix is a delightful surprise. Get ready to be swept off your feet and dance in the land of sweets!
Our sweets may contain the following allergens: WHEAT, GLUTEN, SOYA, MILK, EGG, NUTS, PEANUTS, MUSTARD, SULPHITES.
Please see the allergen and ingredient page for details
Due to the nature of the product, we do not accept returns.

All orders are processed and dispatched within 1 to 2 working days (excluding weekends and holidays) after receiving your order confirmation email. You will receive another notification when your order has shipped. 

Please ensure the shipping address is correct or this will result in delays receiving your order. We are not liable for postage charges due to the wrong shipping address.

We are not liable for 'missed/failed deliveries'. In the event you have missed your delivery and the order is returned to us, you will receive a refund, minus delivery and a 10% restocking fee.