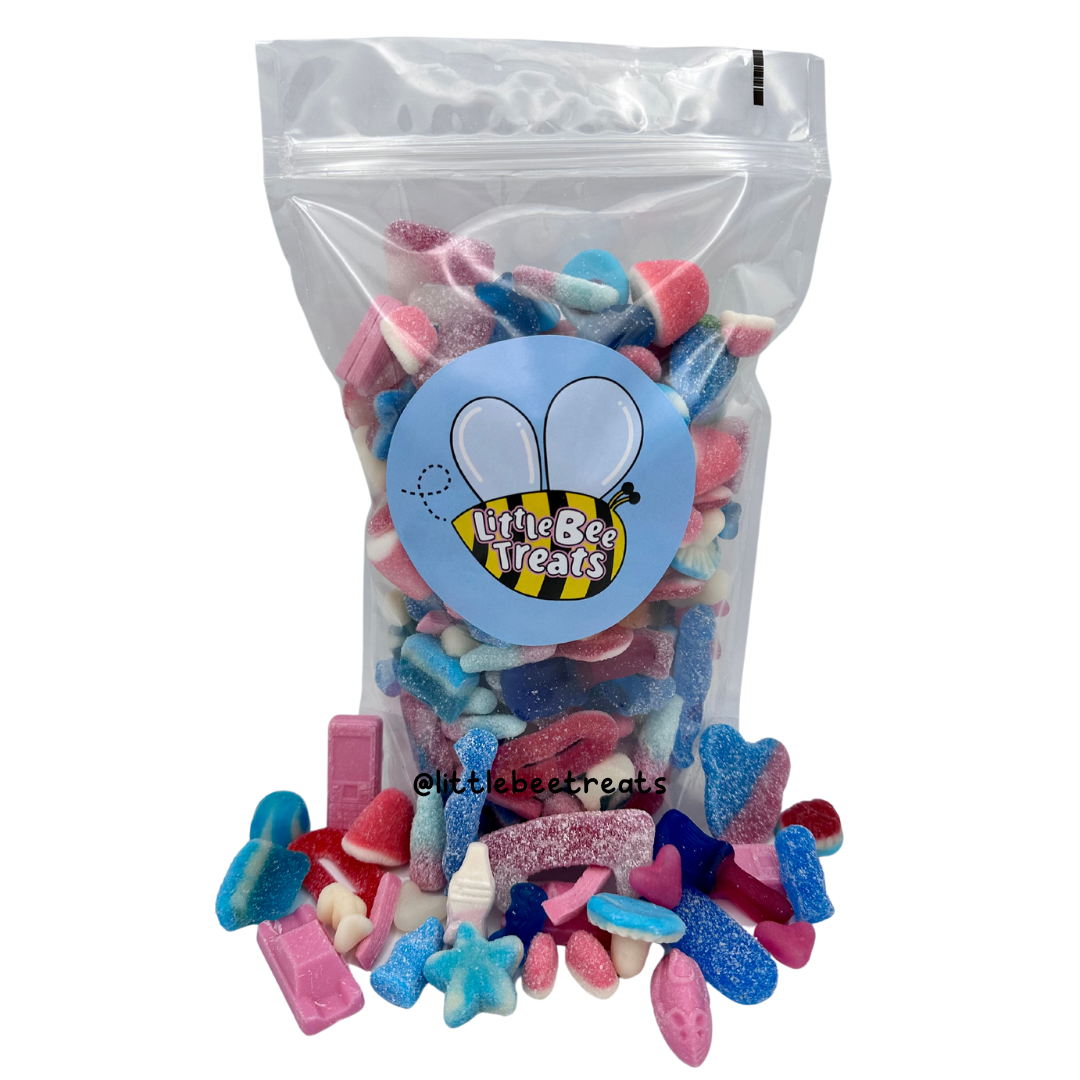 Bee Pink & Blue
Introducing the Pink and Blue Mix: A Sweet Symphony of Delight!
Welcome to Little Bee Treats, your ultimate online sweet shop where dreams of sugary bliss come true! We're thrilled to present our latest creation, the Pink and Blue Mix – a vibrant explosion of pick and mix sweets that will transport you to a whimsical world of confectionery delight.
Imagine indulging in a sweet bag that brings together all the pink and blue treasures from our vast selection. This magical mix includes everything from enchanting bottles and playful dolphins to the wildly popular jelly-filled brains and luscious pink chocolate candy. But wait, there's a secret we must share—the sweets in this medley are the true stars of the show! Revered by sweet aficionados far and wide, these coveted gems have a charm that's simply irresistible.
As much as we strive to keep our shelves stocked with an abundance of delightful treats, sometimes demand exceeds supply. Please note that the Pink and Blue Mix is lovingly curated with all the blue and pink sweets we have in stock at the time of your order. This means that the assortment may vary, ensuring a unique surprise in every bag. It's like unwrapping a sugary adventure every time!
Perfect for any occasion, the Pink and Blue Mix holds a special place in the hearts of gender reveal party planners. Its enchanting hues are sure to captivate and add a touch of wonder to your celebration. Picture the joy on your loved ones' faces as they bite into these delectable delights, surrounded by a cloud of pink and blue.
Now, let's talk about variety. We understand that our customers crave options, which is why we offer the Pink and Blue Mix in various sizes to suit your desires. You can choose from our 500g mini bag, 1kg midi bag, or 2kg maxi bag. And here's a sweet secret—the larger the bag you choose, the more value for your money you'll receive! Who can resist that?
To ensure your sweets stay fresh and delightful, we've carefully packaged them in a thick resealable pouch. Not only does this preserve the mouthwatering taste, but it also allows you to savor the treats at your own pace. And once you've devoured every last morsel (we won't judge, we promise), the pouch can be reused for all your sweet storage needs. It's a win-win for you and the environment!
Now, we must share some important information about allergens. The Pink and Blue Mix contains gluten, soya, and milk. If you have any specific dietary concerns, please refer to our allergen and ingredients page for more detailed information. Your well-being is our top priority, and we want you to enjoy your sweet experience with peace of mind.
At Little Bee Treats, we pride ourselves on delivering 5-star service and ensuring our customers receive the best value for their money. With our Pink and Blue Mix, you'll not only indulge in a symphony of flavors but also relish the joy of a sweet bag that sparks your imagination. So go ahead, browse our selection of pick and mix sweets, customize your sweet bag online, and experience the sweetness that Little Bee Treats has to offer. With sweet delivery right to your doorstep, the Pink and Blue Mix is just a click away from becoming your next sweet obsession.
Contains WHEAT, SOYA, MILK.
Glucose-Fructose Syrup, WHEAT Flour (GLUTEN), WHEAT starch, Sugar, Water, corn flour, Beef Gelatine, Pork gelatine, dextrose, humectant glycerol (sorbitol); stabiliser: gum arabic, Glazing Agents (Vegetable Oil (Palm, rapeseed, Karite, coconut), E901, E903), invert sugar syrup, Emulsifier (E471, E473, Mono-and Diglycerides of Fatty Acids, SOYA Lecithin), Pectin, glazing agent: carnuba wax, beeswax, shellac, anti-caking agents (magnesium stearate, E551, Calcium Phosphates), Maltodextrines, Dextrose, Hydrolysed Rice Protein, Potato Protein, Coating agents (E901, E903), Modified Tapioca Starch, Modified Corn Starch, modified maize starch, modified potato starch, Citric Acid, Fumaric Acid, Lactic Acid, Acetic acid, Malic Acid, tartaric acid, sodium malate, Acids (E330, E270), Wetting (E422), Acidity Regulator: (E325, sodium bicarbonate) Sodium Citrate, Whey Powder (MILK), Skimmed MILK Powder, Beet Root Juice Concentrate, (E331, E330, E331iii), Preservative(E202), Apple Juice from Concentrate, Artificial Flavour, Fruit and Vegetable Concentrates, Spirulina, Apple, Safflower, Tomato, Carrot, black carrot, sweet potato, cherry, hibiscus, elderberry, olive oil, blackcurrant, Pumpkin, Radish, Lemon, Flavourings, Colours (E133, E100, E102, E110, E120, E129, E132, E160a, E163, E171).
Due to the nature of the product, we do not accept returns.

All orders are processed and dispatched within 1 to 2 working days (excluding weekends and holidays) after receiving your order confirmation email. You will receive another notification when your order has shipped. 

Please ensure the shipping address is correct or this will result in delays receiving your order. We are not liable for postage charges due to the wrong shipping address.

We are not liable for 'missed/failed deliveries'. In the event you have missed your delivery and the order is returned to us, you will receive a refund, minus delivery and a 10% restocking fee.