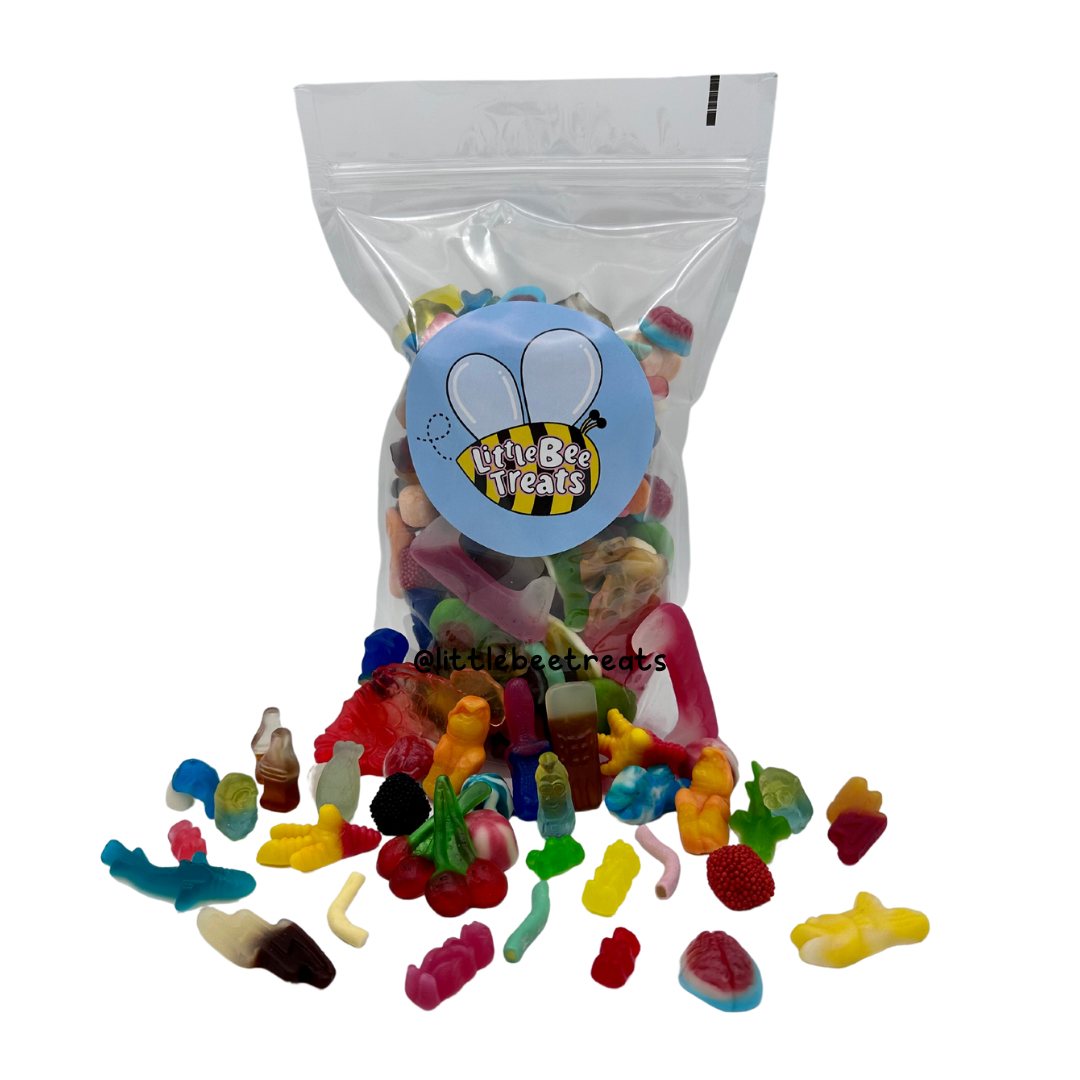 Bee Fizz Free
Welcome to Little Bee Treats, where we're all about sweet treats that make you buzz with joy! Introducing our latest addition, the Non Fizzy mix – the ultimate pick and mix experience that'll satisfy your sweet tooth cravings!
Our Non Fizzy mix is the perfect combination of jelly, foamy, and gummy sweets that'll have you buzzing with delight. We've carefully curated this mix to ensure that you get a variety of our most popular non fizzy sweets, including tongue painters, cola bottles, twist kisses, meerkats, giant snakes and more. Please note that the specific assortment may vary depending on stock and availability, ensuring each bag is a delightful surprise. It's like having your very own sweet shop online, but with the convenience of sweet delivery right to your doorstep!
This pre-set mix is perfect for those who want to buy sweets online without the hassle of customising their own bags. But if you're feeling creative, we've got you covered with our customisable sweet bags. You can pick and choose your favourite sweets to create your own personalised sweets bag.
However, please note that this product contains allergens such as gluten, soya, and milk. If you need more information regarding the ingredients, just head over to our allergen & ingredient page.
We've got you covered with different size bags too! Choose from our 500g mini, 1kg midi, or 2kg maxi sweet bags online. Plus, our thick resealable pouches make it easy for you to enjoy your sweets on-the-go and save some for later. Just pop it in your bag and off you go!
At Little Bee Treats, we're all about providing you with 5-star service and the best value for your money. Order now and get ready to experience the ultimate Non Fizzy mix that'll have you buzzing with joy!
Contains WHEAT. May contain traces of milk, soya, nuts, peanuts
Glucose Syrup, water, Sugar, WHEAT, Corn and Maize Starch, modified cassava starch, Corn flour, Nonpareils (Sugar, Corn Starch, Modified Corn Starch, modified tapioca starch, Glucose Syrup, Calcium Carbonate, Glazing Agent E903, Magnesium Silicate, invert sugar syrup, Wetting Agent (E422), Beef and Pork Gelatine, Dextrose, Maltodextrin, hydrolysed rice protein, Modified potato starch, humectant: sorbitols; Acids: Lactic, Acetic, Tartaric, Malic, Citric acid, Vegetable Oil (Contains Palm, Palm kernel & Coconut Oil), stabiliser: gum arabic, Gelling Agent (Pectins),acidity regulator: sodium citrates; Glazing Agent: Carnauba Wax, Beeswax, shellac; antioxidant: E321, Caramelised Sugar Syrup, Flavourings, Sodium Citrate, Apple Juice Concentrate, Fruit & Vegetable Concentrates (Black carrot, blueberry, Aronia, Bilberry, Elderberry, Grape, lemon, Hibiscus, Kiwi, sweet potato, spirulina, safflower, radish, mango, cherry, orange, passion fruit, tomato, apple, pumpkin, carrot, blackcurrant), natural orange flavouring, sunflower oil, Acidity Regulator: Sodium Citrate, sodium malates, emulsifier: sucrose esters of fatty acids, Colour(Curcumin, carmines, Brilliant Blue FCF, Paprika Extract, anthocyanins) E100, E102, E110, E120, E129, E131, E133, E141, E150c, E153, E160a, E160c, E161b, E163, E171 
Due to the nature of the product, we do not accept returns.

All orders are processed and dispatched within 1 to 2 working days (excluding weekends and holidays) after receiving your order confirmation email. You will receive another notification when your order has shipped. 

Please ensure the shipping address is correct or this will result in delays receiving your order. We are not liable for postage charges due to the wrong shipping address.

We are not liable for 'missed/failed deliveries'. In the event you have missed your delivery and the order is returned to us, you will receive a refund, minus delivery and a 10% restocking fee.