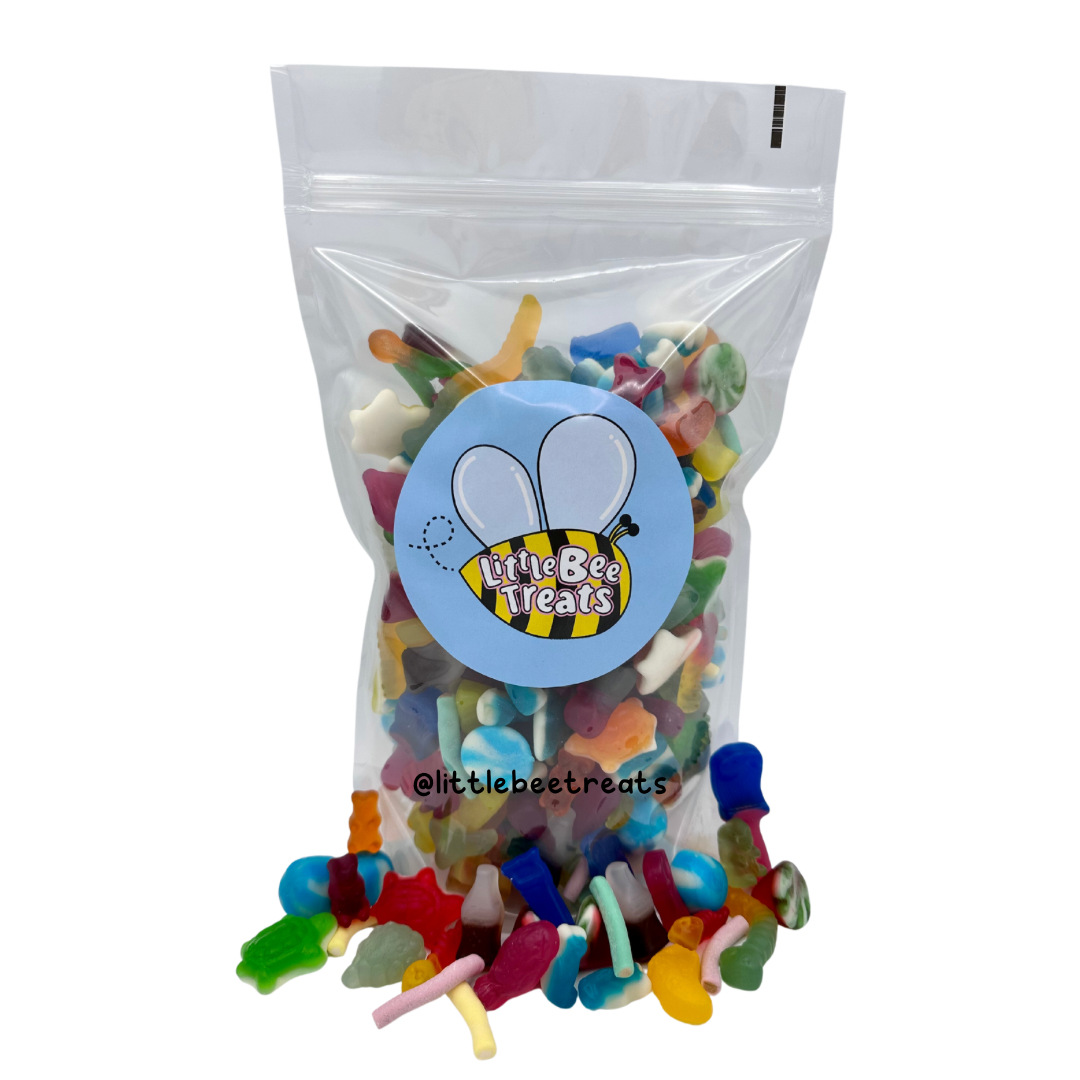 Bee Fizz Free (Halal)
Introducing the amazing Halal Non Fizzy Mix by Little Bee Treats! Get ready to dive into a world of chewy, delightful goodness with this playful, fun-filled treat. We've created a pre-set mix of Halal certified jelly and gummy sweets that will have your taste buds buzzing with joy!
Our Halal Non Fizzy Mix is a tantalizing assortment of non-fizzy sweets that will leave you craving for more. Typically contains tongue painters, fangs, worms, rhubarb & custard. Please note that the specific assortment may vary depending on stock and availability, we guarantee a diverse and scrumptious selection in every bag.

We understand that allergies can be a bummer, so we want to make sure you have all the details. Our Halal Non Fizzy Mix contains gluten. For a more comprehensive breakdown of allergens, head over to our allergen & ingredient page.

At Little Bee Treats, we believe in providing choices as unique as our customers. That's why we offer a range of bag sizes to suit your sweet tooth desires. Whether you're a mini muncher, a mid-size nibbler, or a mega indulger, we've got you covered. Take your pick from our 500g mini, 1kg midi, or 2kg maxi bags. Sweet dreams really do come in all sizes!

But that's not all! Our Halal Non Fizzy Mix comes in a thick resealable pouch that keeps the goodness locked in. You can enjoy your sweets at your own pace and save some for later. It's like having a never-ending supply of happiness! And the best part? The pouch is reusable, so you can keep your treats fresh and delectable.

We're all about delivering a five-star experience to our customers at Little Bee Treats. We want you to feel the love with every order and get the best bang for your buck. That's why we've made it super convenient for you to get your hands on our delightful Halal Non Fizzy Mix. Just hop onto our sweet shop online, explore our selection of customisable sweet bags, and enjoy the ease of sweet delivery right to your doorstep!

So what are you waiting for? Dive into the world of Halal pick and mix sweets with Little Bee Treats. Buy sweets online, personalise your sweet bags, and embark on a flavor-packed adventure like no other. Your taste buds will thank you, and your sweet tooth will be forever grateful. Let the fun and sweetness begin!


Contains GLUTEN, WHEAT. May contain traces of Milk & Soya.
Glucose-fructose Syrup, sugar, water, beef gelatine (Halal), modified maize starch, WHEAT starch, pectins, acidity regulator (citric acid, lactic acid, Malic Acid, E330, E334, E270a), Coconut oil, palm oil, E901, E903, flavouring, apple juice from concentrate, Wetting Agent (E422), Starch Modified of Potato, fruit & vegetable concentrates (apple, spirulina, safflower, grape, radish, blackcurrant, black carrot), glazing agents (carnauba wax, beeswax), Artificial Flavouring, colouring foodstuff (black carrot juice), colours (allure red, lutein, paprika extract, sunset yellow, brilliant blue, curcumin, Tartrazine, plain caramel, copper complexes of chlorophyllins) E100, E102, E129, E133, E141, E150c, E160, E160a, E163, E171
Due to the nature of the product, we do not accept returns.

All orders are processed and dispatched within 1 to 2 working days (excluding weekends and holidays) after receiving your order confirmation email. You will receive another notification when your order has shipped. 

Please ensure the shipping address is correct or this will result in delays receiving your order. We are not liable for postage charges due to the wrong shipping address.

We are not liable for 'missed/failed deliveries'. In the event you have missed your delivery and the order is returned to us, you will receive a refund, minus delivery and a 10% restocking fee.