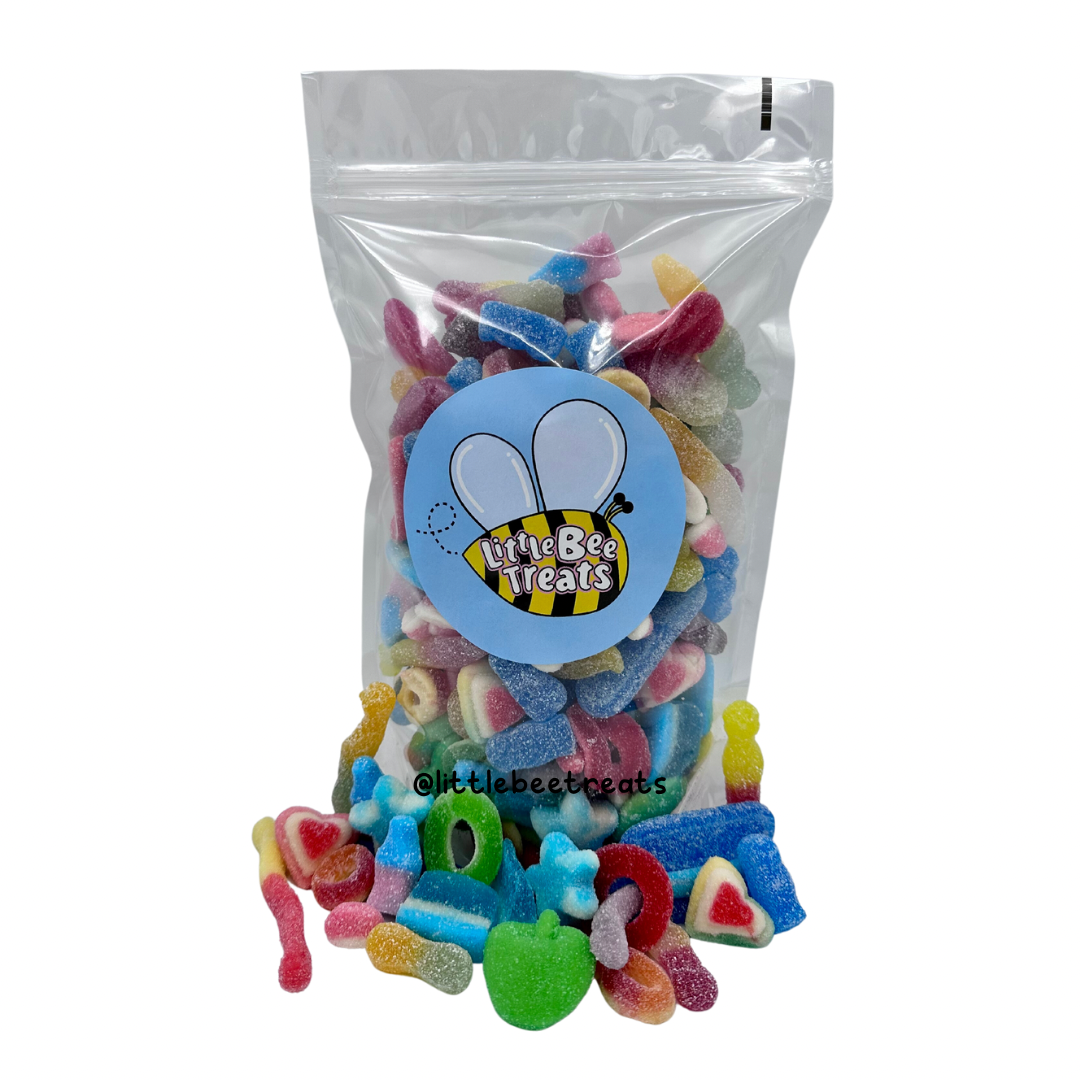 Bee Sour (Halal)
Introducing the sensational Halal Fizzy Mix by Little Bee Treats! Prepare your taste buds for a fizz-tastic adventure with this playful, fun-filled treat. We've curated a pre-set mix of Halal certified fizzy gummy sweets that will leave you buzzing with delight!
Get ready to dive into a world of flavor where every bite is a burst of fizzy goodness. Our Halal Fizzy Mix is a carefully selected assortment of fizzy sweets, and while the exact lineup might change depending on stock and availability, we guarantee an explosion of taste in every bag. Typically contains slices, hearts, worms, meerkats, babies and bottles.
But hey, we've got your back! We understand that allergies can be a buzzkill, so we want to make sure you have all the deets. Our Halal Fizzy Mix contains gluten. For a more comprehensive breakdown of allergens, head over to our allergen & ingredient page.
At Little Bee Treats, we believe in choice, and that's why we offer various bag sizes for your sweet tooth satisfaction. Whether you're a mini muncher or a mega indulger, we've got you covered. You can pick from our 500g mini, 1kg midi, or 2kg maxi bags. Go big or go home, right?
Not only are our Halal Fizzy Mix bags filled to the brim with mouthwatering goodness, but they also come in a thick resealable pouch. That's right, folks! You can enjoy your sweets now and save some for later. It's like magic in a bag! Plus, the pouch is reusable, so you can keep your treats fresh and tasty.
At Little Bee Treats, we take pride in delivering a five-star experience to our customers. We want you to feel the love with every order. That's why we've made it super easy for you to get your hands on our delightful Halal Fizzy Mix. Just hop online to our sweet shop, browse our selection of customisable sweet bags, and enjoy the convenience of sweet delivery right to your doorstep!
So, what are you waiting for? Dive into the world of Halal pick and mix sweets with Little Bee Treats. Buy sweets online, personalise your sweet bags, and embark on a fizzy adventure like no other. Your taste buds will thank you, and your sweet tooth will be forever grateful. Let the fun begin!
Contains GLUTEN, WHEAT. May contain traces of Milk & Soya.
Glucose-fructose Syrup, sugar, water, WHEAT flour, corn starch, Modified Maize Starch, Modified Potato Starch, Beef gelatine (Halal), vegetable fat (palm, coconut, karite),thickener (pectin), Acid (Tartaric, Malic Acid, fumaric acid, lactic acid, citric acid, sodium malate), Acidity Regulators (Sodium Malates, Sodium Hydrogen Carbonate), Modified Potato Starch, dextrose, Spirulina Concentrate, humectant (sorbitol), Apple Juice from Concentrates, flavourings, emulsifier (Mono-and diglycerides of fatty acids), Coating Agents: Glycerol Monosteararte (Sunflower, E471), Glazing Agent (Carnauba Wax), Fruit and Vegetable Juice Concentrates (Apple, Radish, Blackcurrant, Black Carrot). colours (allure red, plain caramel, Titanium Dioxide, brilliant blue, sunset yellow, curcumin, tartrazine, E100, E120, E129, E133, E141, E150a, E160a, E163, E171)
Due to the nature of the product, we do not accept returns.

All orders are processed and dispatched within 1 to 2 working days (excluding weekends and holidays) after receiving your order confirmation email. You will receive another notification when your order has shipped. 

Please ensure the shipping address is correct or this will result in delays receiving your order. We are not liable for postage charges due to the wrong shipping address.

We are not liable for 'missed/failed deliveries'. In the event you have missed your delivery and the order is returned to us, you will receive a refund, minus delivery and a 10% restocking fee.