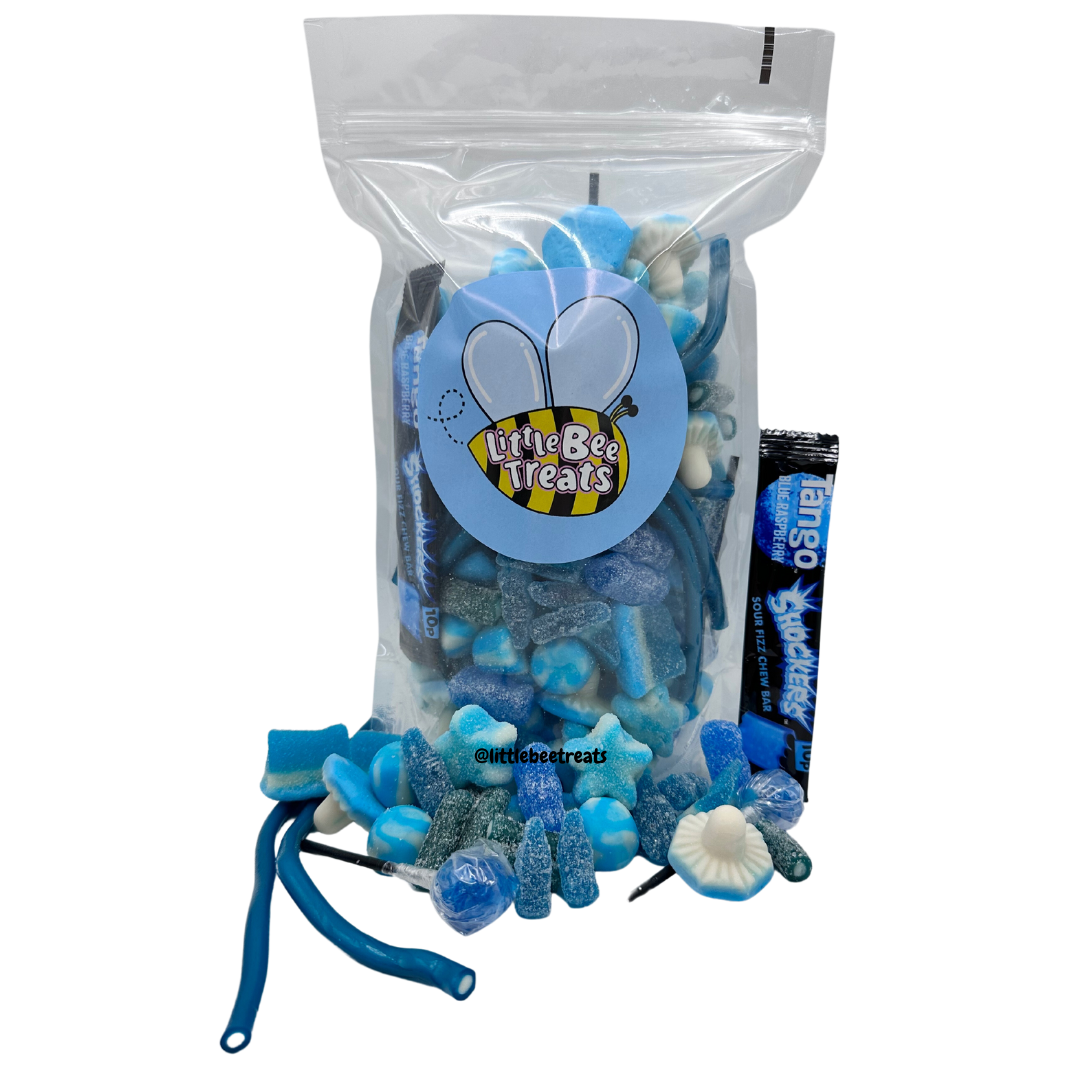 Bee Blue Razz (Halal)
Introducing our Halal Blue Raspberry Mix - the perfect pick and mix sweets for those with a sweet tooth! Our Halal pick and mix sweets are perfect for those who want to indulge in a variety of delicious treats without worrying about their dietary requirements.
This sweet bag is available online, making it easy for you to buy sweets online from our sweet shop online. With our sweet delivery service, you can get your hands on this sweet mix from the comfort of your own home.
Our pre-set sweet mixes are sure to satisfy any craving for blue raspberry flavour. Our Halal blue raspberry mix includes slices, foam mushrooms, bottles, pencils and more - you won't be able to resist!
Please note that some sweets may be out of stock and the sweets in this mix may vary, depending on stock availability. However, we guarantee that each bag will be packed full of blue raspberry flavour!
Our Halal blue raspberry mix contains gluten, soya and milk allergens, and may contain sulphites. Don't worry, though - you can find more detailed information regarding allergens on our allergen & ingredient page.
You can purchase our Halal blue raspberry mix in a variety of sizes, including 500g mini, 1kg midi, and 2kg maxi. Each bag is made into a thick resealable pouch, which can be reused for other purposes.
Looking for a sweet gift? Our Halal blue raspberry mix is the perfect option! Treat your loved ones to this delicious mix of sweets and watch them smile from ear to ear.
At our sweet shop online, we strive to provide our customers with 5-star service and value for money. So what are you waiting for? Get your hands on our Halal blue raspberry mix today and indulge in the ultimate sweet experience!
Contains WHEAT, GLUTEN, SOYA.
Sugar, Glucose Syrup,WHEATFlour(GLUTEN),WHEATstarch, Corn Starch, Vegetable Fat (Palm, coconut), Modified potato, corn and maize starch, Vegetable Oil (Palm, Coconut, Karite), Beef Gelatine (HALAL), Salt, Dextrose, Acid (Citric acid, Lactic acid, Malic Acid, sodium malate, E270, E330), Fumaric acid, Glazing Agents,carnauba wax, E901, E903, Apple Juice Concentrate, Acidity Regulators (Citric Acid, E325, E331, E331iii), Flavouring, Humectant (E422, Sorbitol), Emulsifier (E471, Mono-and Diglycerides of Fatty Acids,SOYALecithin),Wetting (E422), Gelling Agents E901, E903), Coating Agents: Glycerol Monosteararte (Sunflower, E471), Artificial flavouring, Raspberry Flavourings, Tutti frutti flavouring, Colours (Brilliant Blue, E133, E171, E129, Copper Chlorophyll)
Due to the nature of the product, we do not accept returns.

All orders are processed and dispatched within 1 to 3 working days (excluding weekends and holidays) after receiving your order confirmation email.

Please read the Shipping Policy