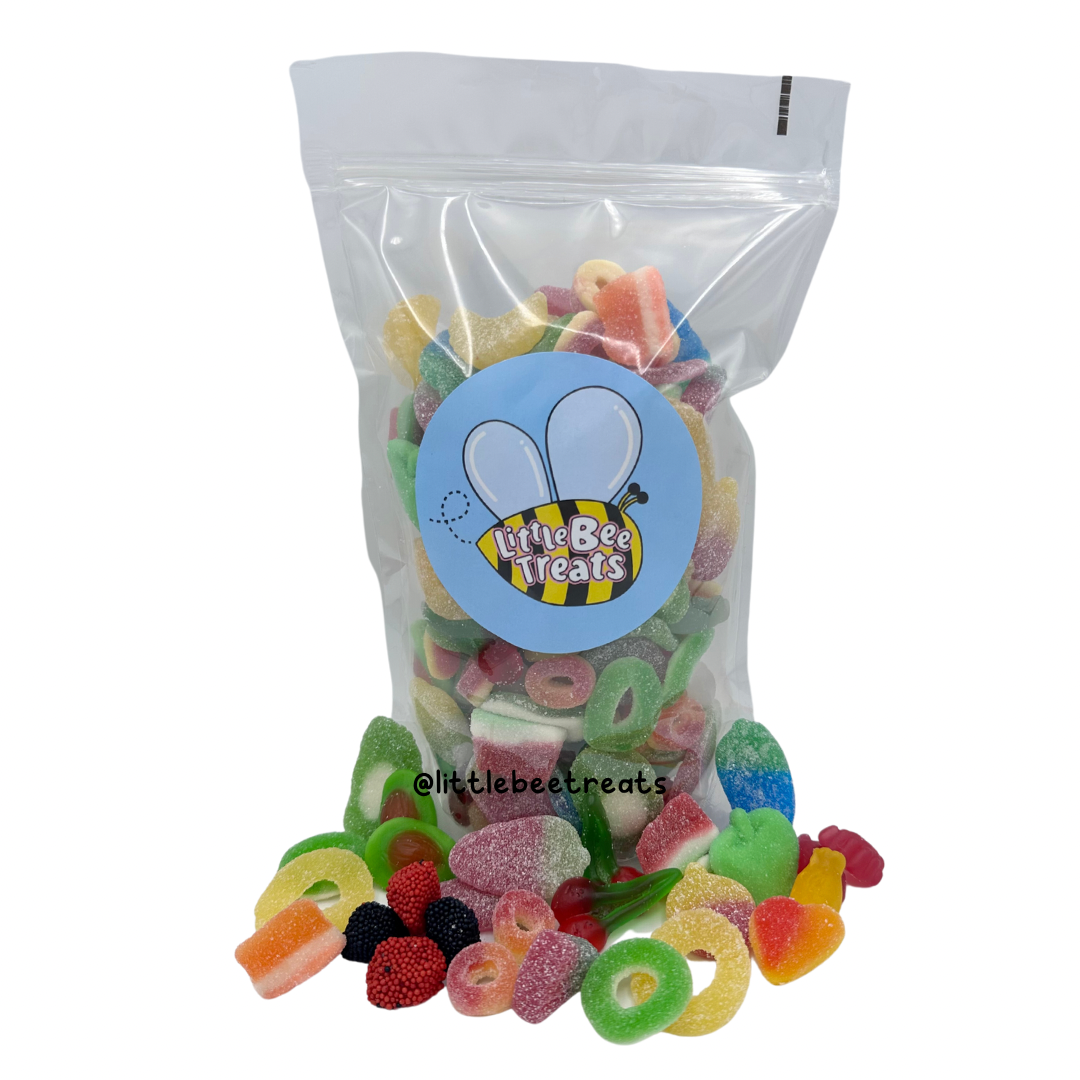 Bee Fruity
Welcome to Little Bee Treats - Your Online Sweet Shop Delight!
Indulge in the ultimate pick and mix experience with our customizable sweet bags, available exclusively at Little Bee Treats. We're here to satisfy your sweet tooth cravings and bring the joy of confectionery right to your doorstep!
Picture this: you're browsing our sweet bags online, and your eyes land on our newest sensation; the Fruity Mix. This pre-set sweet mix is a delightful combination of fruit-flavored wonders that will have your taste buds buzzing with excitement. From fizzy strawberries that pop with tangy goodness to juicy watermelon slices and irresistible fruit-flavored rings, each bite is a journey into pure fruity bliss.
Now, here's the scoop. While we strive to keep our sweet inventory fully stocked, please note that the availability of certain sweets may vary. But fear not, dear customer! Every Fruity Mix is carefully curated to ensure a delightful surprise in every bag. We want you to experience the thrill of uncovering a new combination with each purchase. It's like a treasure hunt for your taste buds!
Before you dive into this delicious adventure, let's talk about allergens. The Fruity Mix contains gluten and may contain soya and milk. We take allergen concerns seriously, so please refer to our allergen and ingredients page for detailed information. Your safety and satisfaction matter to us.
The best part? Our sweet bags come in a variety of sizes, catering to your personal preference. Choose from our 500g mini, 1kg midi, or 2kg maxi bags - the decision is yours! And here's a little secret: the bigger the bag you choose, the more value for your money you'll receive. We want you to relish every sweet moment without worrying about running out too soon. More sweets, more smiles!
To ensure your treats stay fresh and ready to enjoy, we've packed them into thick resealable pouches. Our pouches are not only reliable but also reusable, making them perfect for storing your personalized sweets. It's like having your very own sweet shop online, available at your fingertips.
At Little Bee Treats, we're committed to providing you with a top-notch sweet delivery experience. With our wide selection of pick and mix sweets, customizable sweet bags, and pre-set sweet mixes like the Fruity Mix, we're here to make your sweet dreams come true. So, go ahead and buy sweets online from our sweet shop, and let us bring the sweetness straight to your door. Treat yourself or surprise a loved one with a personalised sweet experience today!
Contains WHEAT, May contain MILK and SOYA.
Glucose Syrup, Sugar, water, WHEAT Starch, Corn starch, Corn syrup, Maize starch, Modified potato starch, modified tapioca starch, pectins, Acids (Lactic, Malic, Acetic, Tartaric, Citric, Sodium malate), Sodium Hydrogen Carbonate, hydrolysed rice protein, palm fat, pork and beef gelatine, Nonpareils (Sugar, Corn Starch, Modified Corn Starch, Glucose Syrup, Calcium Carbonate, Acidulants : E330,E270,E296, Vegetable oil (Coconut, Palm, palm kernel), Maltodextrin, dextrose; emulsifier: mono-and diglycerides of fatty acids, citric acid esters of mono-and diglycerides of fatty acids; acid: citric acid; acidity regulator: trisodium citrate; Flavouring, apple juice from concentrate, Fruit and Plant Concentrates: Apple, Aronia, Blackcurrant, Elderberry, Grape, Kiwi, Nettle, Spinach, safflower, lemon, sweet potato, radish, Glazing Agents: glazing agents: white and yellow beeswax, Carnauba Wax, colouring foodstuff (black carrot juice), Colours (Allura Red, Tartrazine, Sunset Yellow). Invert Sugar Syrup, Anticaking Agent (Magnesium Silicate), Elderberry Extract, Carob Extract, copper complexes of chlorophyllins, Acidity Regulator: Sodium Citrate, Colour: E100, E102, E110, E120, E129, E132, E133, E141, E160c, E171.
Due to the nature of the product, we do not accept returns.

All orders are processed and dispatched within 1 to 2 working days (excluding weekends and holidays) after receiving your order confirmation email. You will receive another notification when your order has shipped. 

Please ensure the shipping address is correct or this will result in delays receiving your order. We are not liable for postage charges due to the wrong shipping address.

We are not liable for 'missed/failed deliveries'. In the event you have missed your delivery and the order is returned to us, you will receive a refund, minus delivery and a 10% restocking fee.