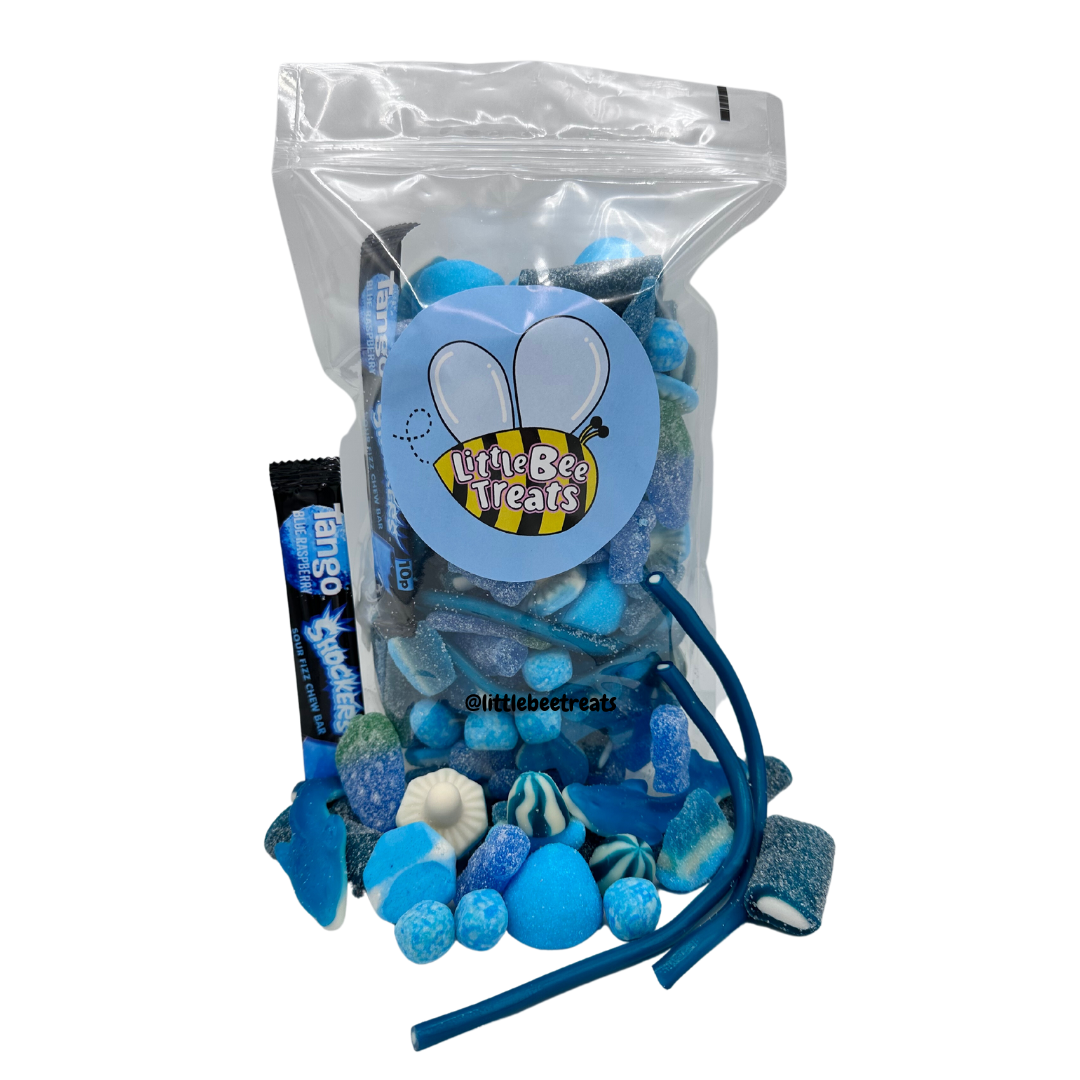 Bee Blue Razz
Get ready to tantalize your taste buds with our most popular product yet – the Blue Raspberry Mix! If you're a fan of sweet, fruity flavors, this mix is going to be your new BFF. Bursting with a huge variety of blue raspberry flavor sweets, including slices, foam mushrooms, bottles, dolphins, pencils and more, this mix is a candy-lover's dream come true.
Now, we know that sometimes life can be unpredictable and a few sweets might be out of stock, but don't worry – the Blue Raspberry Mix is still gonna bring the party! The sweets in this mix may vary depending on stock availability, but you can always trust that it's gonna be filled with that signature blue raspberry zing.
We take allergens seriously, so if you're wondering about what's in the mix, we've got you covered. The Blue Raspberry Mix contains gluten, soya, and milk, and may also contain sulphites. For more detailed information regarding allergens and ingredients, check out our allergen & ingredient page.
One of the best things about the Blue Raspberry Mix is that you can choose from a variety of different bag sizes. Whether you want to indulge in a 500g mini bag, upgrade to a 1kg midi bag or 2kg maxi, or go all out with a 5kg mega bag, we've got you covered. Plus, the bigger the bag, the more value for your money!
We know that once you open up your Blue Raspberry Mix, you're gonna want to savor every last sweet. That's why we've packaged it in a thick resealable pouch, so you can save some for later. And hey, once you're done with the sweets, you can even reuse the pouch for something else – how cool is that?
At the end of the day, we want our customers to enjoy every moment of their Blue Raspberry Mix experience. From the playful, fruity flavor to the 5-star service we provide, we're all about making sure you get your value for money. So go ahead and indulge – you deserve it!
ALLERGY INFORMATION: Contains WHEAT, GLUTEN, SOYA, SULPHITES. May contain MILK, NUTS, PEANUTS.
Contains WHEAT, GLUTEN, SULPHITES. May Contain SOYA and MILK.
Glucose-Fructose Syrup, WHEAT Flour (GLUTEN), Sugar, Water, Beef Gelatine, Pork gelatine, dextrose, humectant glycerol (sorbitol); stabiliser: gum arabic, Glazing agents Vegetable Fat (Palm, coconut), Glazing Agents (Vegetable Oil (Palm, coconut), E901, E903),Emulsifier (E471, E473), Pectin, glazing agent: carnuba wax, beeswax, Coating agents (E901, E903), Modified Tapioca Starch, Modified Corn Starch, modified maize starch, modified potato starch, Citric Acid, Fumaric Acid, Lactic Acid, Malic Acid, tartaric acid, sodium malate, Acids (E330, E270), Wetting (E422), Acidity Regulator: (E325) Sodium Citrate, (E331, E330, E331iii), Preservative(E202), Apple Juice from Concentrate, Artificial Flavour, Fruit and Vegetable Concentrates, Safflower, Lemon, Flavourings, Colours (E133, E100, E129, E171).
Due to the nature of the product, we do not accept returns.

All orders are processed and dispatched within 1 to 2 working days (excluding weekends and holidays) after receiving your order confirmation email. You will receive another notification when your order has shipped. 

Please ensure the shipping address is correct or this will result in delays receiving your order. We are not liable for postage charges due to the wrong shipping address.

We are not liable for 'missed/failed deliveries'. In the event you have missed your delivery and the order is returned to us, you will receive a refund, minus delivery and a 10% restocking fee.