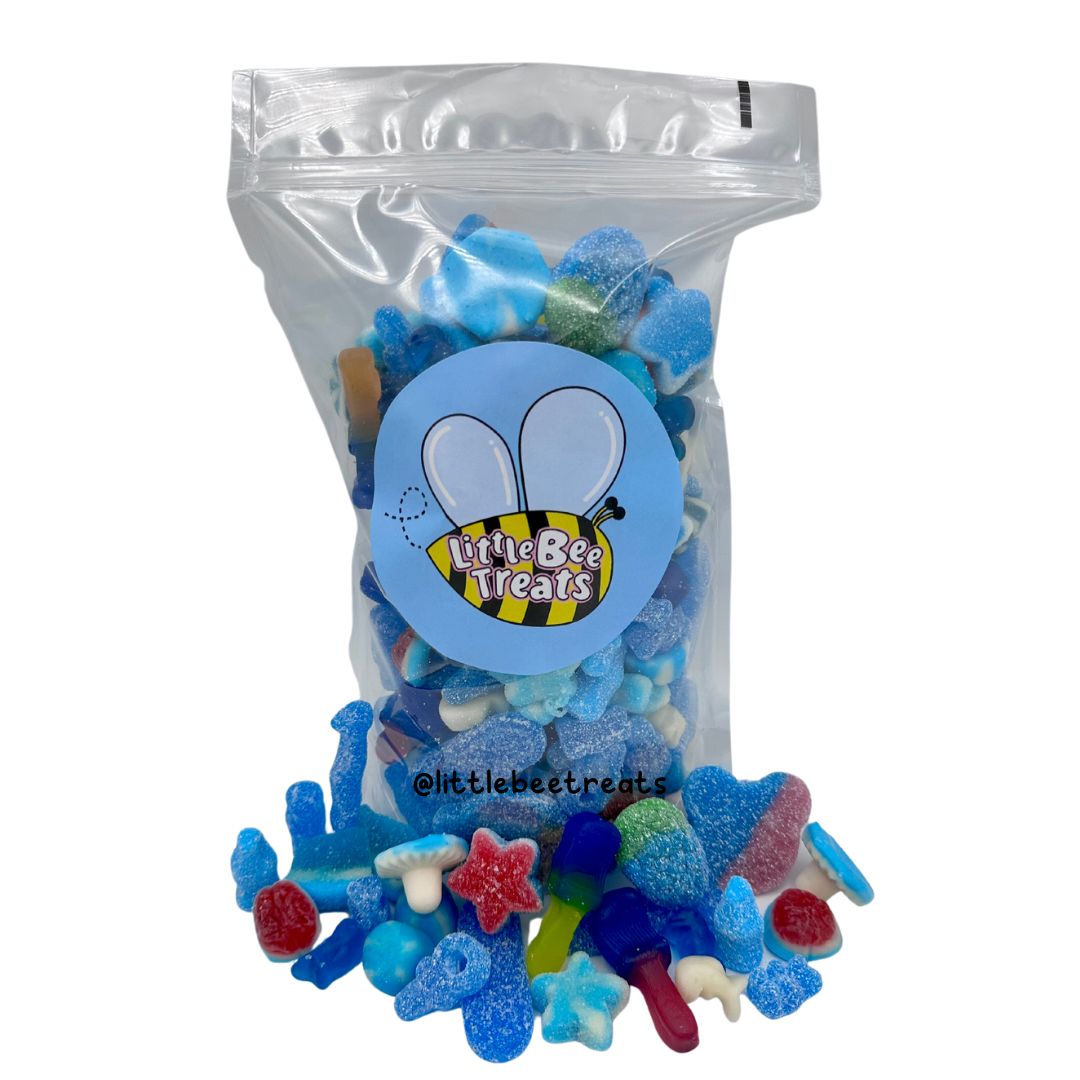 Bee Blue
Introducing the All Blue Mix - A Treasure Trove of Blue Sweet Delights!
Welcome to Little Bee Treats, your one-stop online sweet shop where pick and mix dreams come true! We take immense pride in offering you a wide range of delectable treats, and our newest addition is sure to make a splash. Allow us to introduce the All Blue Mix, a captivating collection of blue-colored candies that will have your taste buds dancing with joy!
Why settle for ordinary when you can indulge in the extraordinary? Our All Blue Mix is carefully crafted to bring you the very best in blue sweets. From enchanting blue bottles to adorable dolphins and the ever-popular jelly-filled brains, this mix is a delightful medley of all things blue and delicious. We know how sought after blue sweets are, and we've curated this mix to ensure you get your fill of blue confectionary magic!
Typically contains dolphins, brains, dummies, bottles, tongue painters, meerkats and other blue sweets. Please note that availability may vary, as some sweets may be temporarily out of stock. But fear not, dear sweet enthusiast! Our All Blue Mix is designed to adapt to our ever-changing stock, guaranteeing a unique blend of blue delights with each purchase. It's like a surprise party in your mouth, with a delightful blue twist!
Before you dive into this ocean of flavor, we want to make sure you have all the information you need. The All Blue Mix contains gluten, soya, and milk allergens. For a comprehensive breakdown of the ingredients, we invite you to visit our allergen & ingredients page. Your well-being is important to us, and we want everyone to be able to enjoy our treats safely.
Now, let's talk options! The All Blue Mix can be yours in a variety of sizes to suit your cravings. Whether you opt for the 500g mini bag, the 1kg midi bag, or the 2kg maxi bag, we've got you covered. And here's a sweet tip: the bigger the bag you choose, the more value for your money you'll enjoy. It's a win-win for your taste buds and your wallet!
At Little Bee Treats, we believe in going the extra mile to ensure your satisfaction. That's why our All Blue Mix comes packaged in a thick resealable pouch. Not only does it keep your sweets fresh, but it's also perfect for reusing! So go ahead, indulge in a handful of blue heaven, seal it up for later, and let the joy last longer.
We take pride in providing 5-star service to our customers, and we strive to deliver the sweetest experience possible. With our convenient online store, you can buy sweets online from the comfort of your own home. Whether you're in search of pick and mix delights, customisable sweet bags, pre-set sweet mixes, or personalised treats, we've got you covered. Let us bring the sweetness to your doorstep with our reliable sweet delivery service.
So what are you waiting for? Dive into a sea of blue bliss with our All Blue Mix and experience the magic of Little Bee Treats. Indulge in the most popular blue sweets, satisfy your cravings, and let your taste buds embark on a journey they'll never forget. Place your order today and let the sweetness begin!
Contains WHEAT, GLUTEN, SOYA. May Contain MILK.
Glucose-Fructose Syrup, WHEAT Flour (GLUTEN), WHEAT starch, Sugar, Water, Beef Gelatine, Pork gelatine, dextrose, humectant glycerol (sorbitol); stabiliser: gum arabic, Glazing Agents (Vegetable Oil (Palm, Karite, coconut), E901, E903), Emulsifier (E471, E473, Mono-and Diglycerides of Fatty Acids,SOYA Lecithin), Pectin, glazing agent: carnuba wax, beeswax, anti-caking agents (magnesium stearate, E551, Calcium Phosphates), Coating agents (E901, E903), Modified Tapioca Starch, Modified Corn Starch, modified maize starch, modified potato starch, Citric Acid, Fumaric Acid, Lactic Acid, Malic Acid, tartaric acid, sodium malate, Acids (E330, E270), Wetting (E422), Acidity Regulator: (E325, sodium bicarbonate) Sodium Citrate, (E331, E330, E331iii), Preservative(E202), Apple Juice from Concentrate, Artificial Flavour, Fruit and Vegetable Concentrates, Spirulina, Apple, Safflower, Tomato, Pumpkin, Radish, Lemon, Flavourings, Colours (E133, E100, E102, E110, E120, E129, E132, E160a, E171).
Due to the nature of the product, we do not accept returns.

All orders are processed and dispatched within 1 to 2 working days (excluding weekends and holidays) after receiving your order confirmation email. You will receive another notification when your order has shipped. 

Please ensure the shipping address is correct or this will result in delays receiving your order. We are not liable for postage charges due to the wrong shipping address.

We are not liable for 'missed/failed deliveries'. In the event you have missed your delivery and the order is returned to us, you will receive a refund, minus delivery and a 10% restocking fee.