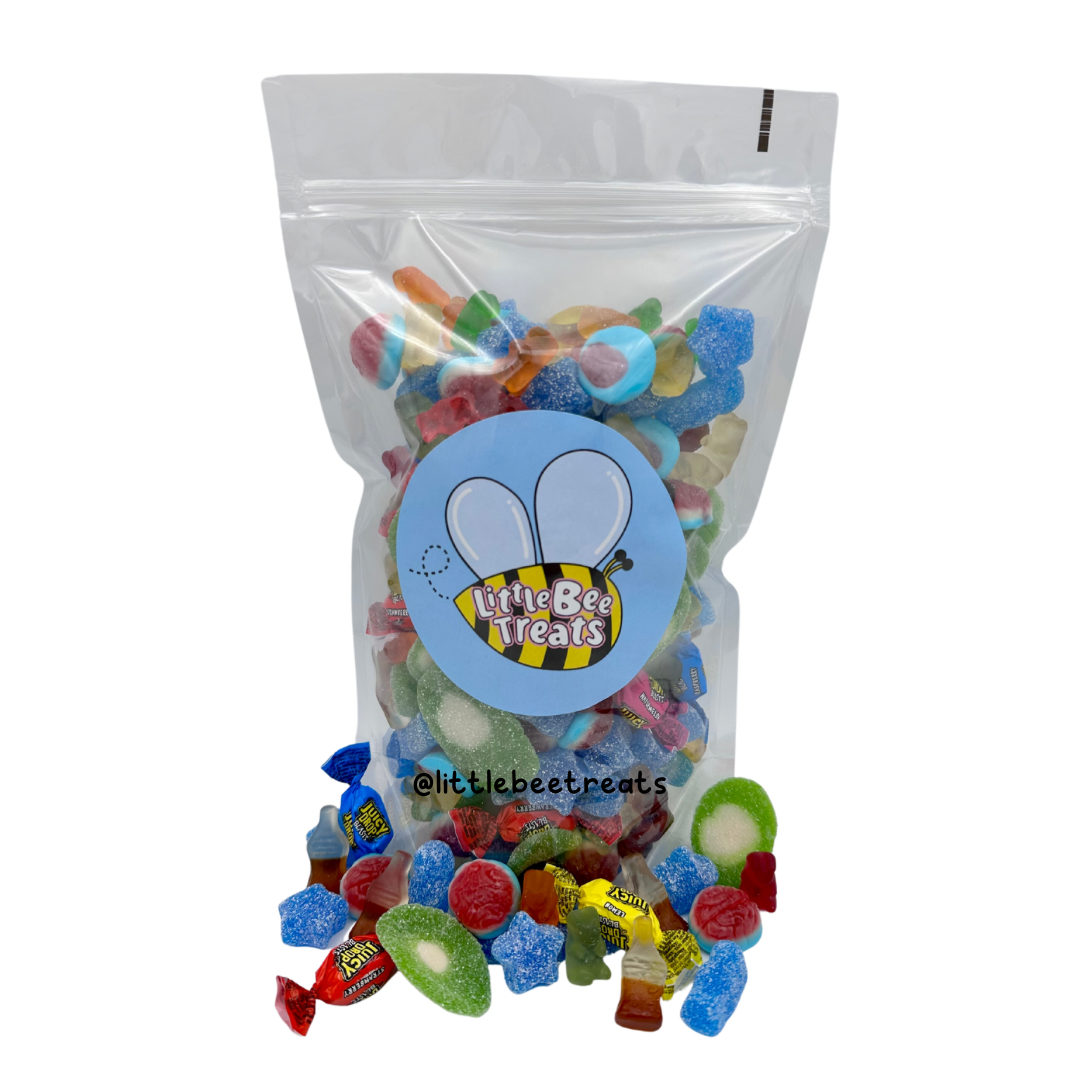 Bianca's Favourites
🍬 Welcome to Little Bee Treats, your sweet haven in the buzzing world of online confectionery! If you're searching for a delightful blend of flavors that will make your taste buds dance with joy, then look no further. Our customisable sweet bags are the perfect treat for all the sweet-toothed adventurers out there!
🍭 At Little Bee Treats, we believe in delivering the sweetest experience straight to your door. With our Sweet Bags Online service, you can indulge in a tantalizing assortment of sugary delights without even leaving your hive. And now, with Bianca's Favourites, you can dive headfirst into a mix of our owner Bianca's absolute top picks!
🍬 Imagine exploring a world of delectable flavors, where the jelly-filled brains and sour kiwi slices reign supreme. Bianca's Favourites is a handcrafted blend of all the treats that make Bianca's heart flutter with delight. With this mix, you not only satisfy your sweet cravings but also get to know the owner a little better through their personal favourites. Bianca's top picks are fizzy blue babies, juicy drop blasts, sour kiwi slices, teddy bears, cola bottles, fizzy blue stars.
🍭 Please bear in mind that our Sweet Bags are subject to the whims of stock availability. We curate this mix based on the sweets we have in stock at the time, ensuring each bag is a unique surprise.
⚠️ We care about your well-being, which is why we want to let you know that Bee's Favourites contain allergens such as gluten, soya, milk, and may contain traces of egg, and nuts. For detailed information regarding allergens and ingredients, please visit our dedicated Allergen & Ingredients page.
🛍️ Bianca's Favourites is available in a variety of bag sizes to suit every craving. Whether you opt for a petite pouch or go all out with a mega bag, you're guaranteed unbeatable value for money. After all, we believe in making sure you get the most out of your sweet experience!
♻️ Our commitment to sustainability extends beyond just delectable sweets. We pack Bee's Favourites in a thick resealable pouch, which you can reuse once you've satisfied your sweet tooth. It's our way of adding a sprinkle of eco-friendliness to your sugary indulgence.
🌟 At Little Bee Treats, we pride ourselves on providing 5-star service that's as sweet as our confections. We want you to savor every moment of your shopping experience and relish the joy of discovering your personalized pick and mix. From the first click to the final bite, we're here to ensure you enjoy the sweetest journey!
🍬📦 So, what are you waiting for? Treat yourself to Bianca's Favourites, the perfect combination of playfulness and flavor. Buy your customisable sweet bag online today, and let your taste buds dance with delight!
Contains WHEAT, SOYA. May contain traces of nuts, egg, milk.
Sugar, glucose syrup, modified starch, WHEAT starch, Water, Beef & Pork Gelatine, fully hydrogenated vegetable fat (palm, coconut), Dextrose, acidifiers (lactic acid, citric acid, malic acid, sodium malate, sodium citrates;), invert sugar syrup, modified potato starch, gelling agent: pectins; flavourings (apple, strawberry, lemon, cola, raspberry, watermelon) Caramelised Sugar Syrup, colours (E102, E162, E150a, E163, E120, E100, E141, E133, E171)Curcumin, Brilliant Blue FCF, Paprika Extract, Fruit & Vegetable Concentrates (apple, radish, blackcurrant, Black Carrot), glazing agent (carnauba wax, Beeswax). humectant (sorbitol), beef gelatine, emulsifiers (mono and di-glycerides of fatty acids, soya lecithin), Salt. 
Due to the nature of the product, we do not accept returns.

All orders are processed and dispatched within 1 to 2 working days (excluding weekends and holidays) after receiving your order confirmation email. You will receive another notification when your order has shipped. 

Please ensure the shipping address is correct or this will result in delays receiving your order. We are not liable for postage charges due to the wrong shipping address.

We are not liable for 'missed/failed deliveries'. In the event you have missed your delivery and the order is returned to us, you will receive a refund, minus delivery and a 10% restocking fee.