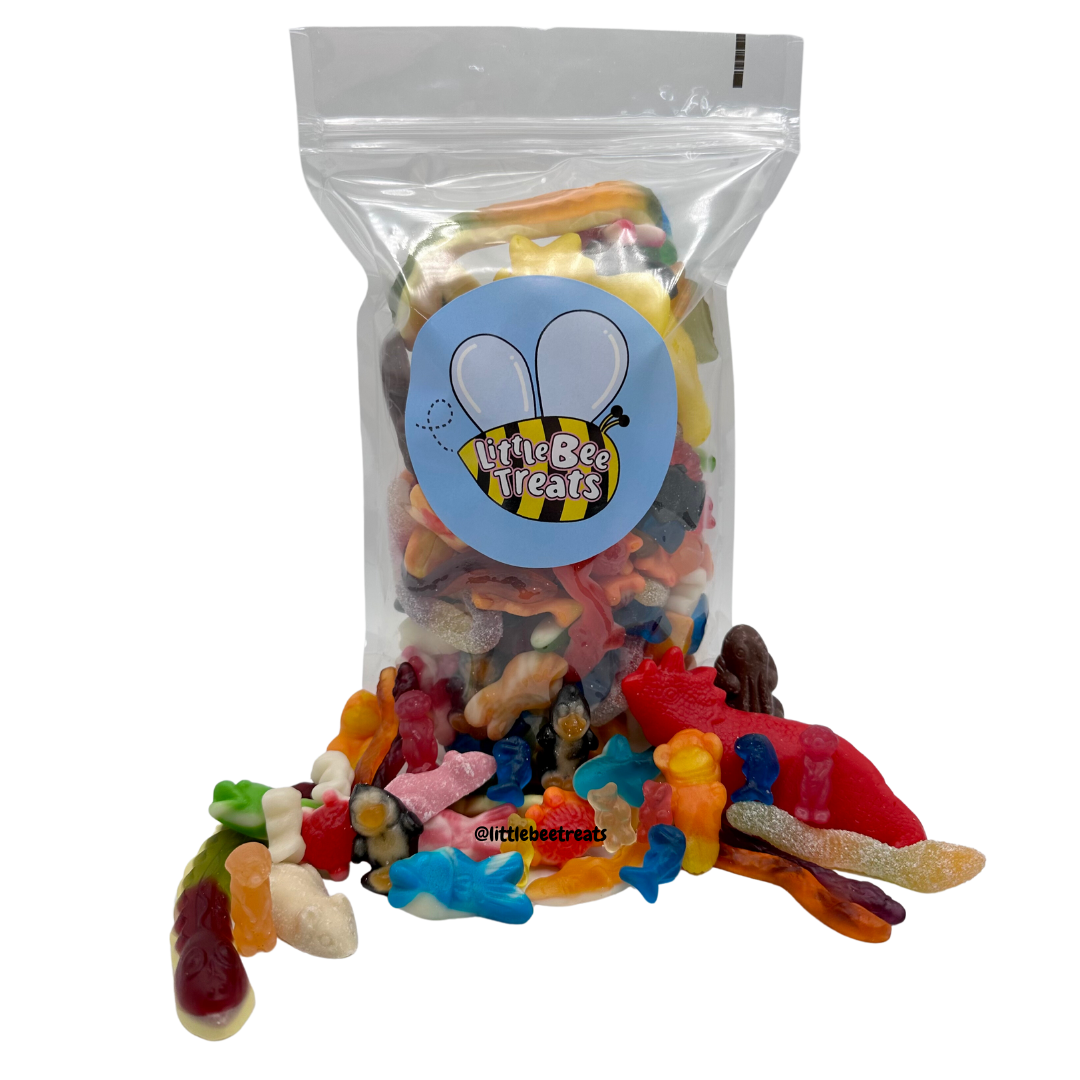 Bee Wild
Introducing the wild and wacky Animal Mix from Little Bee Treats! Get ready to go on a safari adventure with this deliciously playful pack of sweets. Our Animal Mix is the perfect blend of jelly animal shaped sweets with a hint of fizzy goodness, topped off with some chocolate pieces for that extra sweet touch.
Get your sweet fix with ease by checking out our sweet shop online, where you can buy sweets online and get sweet delivery straight to your door. You can choose from pre-set sweet mixes or create your own customisable sweet bags. We've got you covered with vegan pick and mix and halal pick and mix options too, so everyone can join in on the fun.
Our Animal Mix is chock full of animal-themed treats like sharks, snakes, frogs, dolphins, penguins and more! Please note that availability may vary, as some sweets may be temporarily out of stock. But fear not, dear sweet enthusiast! Our Animal Mix is designed to adapt to our ever-changing stock, guaranteeing a unique blend of delights with each purchase! Plus, you can rest assured that our products are made with quality ingredients, and we've got a full list of allergens and ingredients available online for your convenience.
We offer our Animal Mix in a variety of sizes to suit your needs. Choose from our 500g mini, 1kg midi, or 2kg maxi bags to satisfy your sweet tooth. And the best part? Our resealable pouches mean you can save some for later (if you can resist the temptation).
At Little Bee Treats, we're all about giving our customers the best possible experience. So, what are you waiting for? Grab your Animal Mix and get ready for a wild ride!
Contains MILK, SOYA, WHEAT, GLUTEN
Glucose Syrup, Water, Sugar, Maize starch, WHEAT starch, modified Starch (corn, WHEAT, maize, potato), Beef and pork Gelatine, Humectant (Sorbitol, glycerol), thickener (pectin), concentrated mixed fruit juices 1.5% (grape, banana), invert sugar syrup, Dextrose, Acids: Citric Acid, Tartaric Acid, Lactic Acid, Malic Acid, Sodium malate, Fruit and Fruit and vegetable Concentrates: Apple, Aronia, Bilberry, Blackcurrant, Carrot, Elderberry, Grape, Lemon, hibiscus, kiwi, lemon, orange, Radish, Safflower, pumpkin, tomato, Spirulina, Colouring, black carrot juice. Flavouring, Elderberry Extract, Glazing Agents: Beeswax, Carnauba Wax, Palm oil. caramelised sugar syrup; elderberry extract.Vegetable Oil (Contains Palm, palm kernel & Coconut Oil), Acidity Regulator: Sodium Citrate, colours (curcumin, Brilliant Blue FCF, chlorophylls and chlorophyllins, plain caramel, paprika extract). Whey Powder (From Milk), Wheat Flour (With Calcium, Iron, Niacin, Thiamin), Emulsifier (Rapeseed Lecithin, SOYA Lecithin), Natural Flavourings, Natural Colour (Carmine). Fully Hydrogenated Vegetable Fat (Palm, Palm Kernel). Fat Reduced Cocoa Powder, Fully Hydrogenated Vegetable Fat (Palm, Palm Kernel), Skimmed MILK Powder, Beet Root Juice Concentrate, Soy Lecithin, Flavourings. Colours : E100, E102, E120, E129, E133, E141, E153, E160a, E160c, E161b, E163, E171
Due to the nature of the product, we do not accept returns.

All orders are processed and dispatched within 1 to 2 working days (excluding weekends and holidays) after receiving your order confirmation email. You will receive another notification when your order has shipped. 

Please ensure the shipping address is correct or this will result in delays receiving your order. We are not liable for postage charges due to the wrong shipping address.

We are not liable for 'missed/failed deliveries'. In the event you have missed your delivery and the order is returned to us, you will receive a refund, minus delivery and a 10% restocking fee.