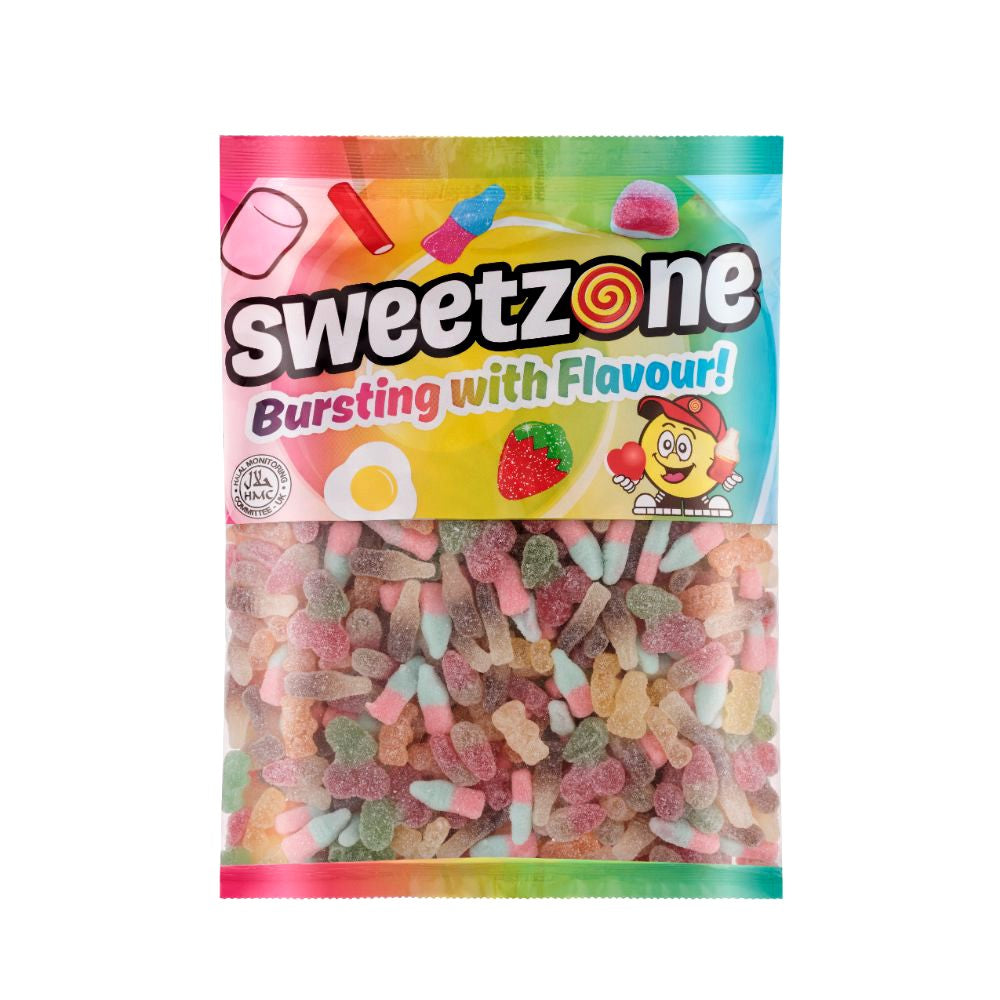 Sweetzone Tangy Mix Pre-Packed 1KG
🐝 Welcome to Little Bee Treats, the sweetest online shop buzzing with delightful confections! 🍭
Get ready to tantalize your taste buds with the extraordinary Tangy Mix, brought to you by the renowned brand Sweetzone! Brace yourself for a tangy and fizzy extravaganza that will make your senses tingle with delight. 🌈✨
Picture this: a burst of vibrant colors and a symphony of tangy flavors that will transport you to a paradise of sweetness. The Tangy Mix, with its Halal certification, ensures that you can indulge in these delightful treats with complete peace of mind. 
Weighing in at a generous 1 kilogram, this pre-packaged bag of goodness is like a treasure trove of tangy delights. Each bite will have you experiencing a burst of mouthwatering tanginess, combined with a fizzy sensation that will leave you craving more. We take pride in offering you the highest quality tangy and fizzy sweets, ensuring that every piece is a burst of flavor and fun. 🎉🍭
But that's not all – the Tangy Mix is just one piece of a mouthwatering puzzle. Mix and match our Sweetzone 1-kilogram pre-packaged bags to create your own personalized sweet symphony. Combine the Tangy Mix with other Sweetzone bags and unlock exclusive discounts! We want to ensure that you have endless options for customizing your sweet experience while getting incredible value for your money. 💰🌈
At Little Bee Treats, we believe that enjoying delicious treats shouldn't mean compromising on your dietary preferences or values. That's why our Tangy Mix, manufactured by the well-known and trusted brand Sweetzone, is Halal certified, guaranteeing that it meets the highest standards of quality and authenticity. We want everyone to experience the joy of our tangy and fizzy sweets, no matter their dietary requirements. 🍬
So, what are you waiting for? Take a leap into our virtual sweet shop, explore the enchanting world of the Tangy Mix, and let your taste buds embark on a tangy adventure like never before. Order now and discover why Little Bee Treats is the go-to destination for all your pick and mix desires. Get ready for a burst of tangy goodness, fizzy sensations, and an unforgettable taste experience – all in the form of value-packed, Halal certified delight! 🐝🍬✨
Ingredients & Allergy Information

glucose syrup, sugar, beef gelatine (halal), modified corn starch, apple juice from concentrate (1%), citric acid, fumaric acid, Malic Acid, colours (E100 (ii), E160a (iii), E163, E141, E133, E171, E129, E150a), flavourings. * consumption of E129 may have an adverse effect on activity and attention in children.
Due to the nature of the product, we do not accept returns.

All orders are processed and dispatched within 1 to 2 working days (excluding weekends and holidays) after receiving your order confirmation email. You will receive another notification when your order has shipped. 

Please ensure the shipping address is correct or this will result in delays receiving your order. We are not liable for postage charges due to the wrong shipping address.

We are not liable for 'missed/failed deliveries'. In the event you have missed your delivery and the order is returned to us, you will receive a refund, minus delivery and a 10% restocking fee.