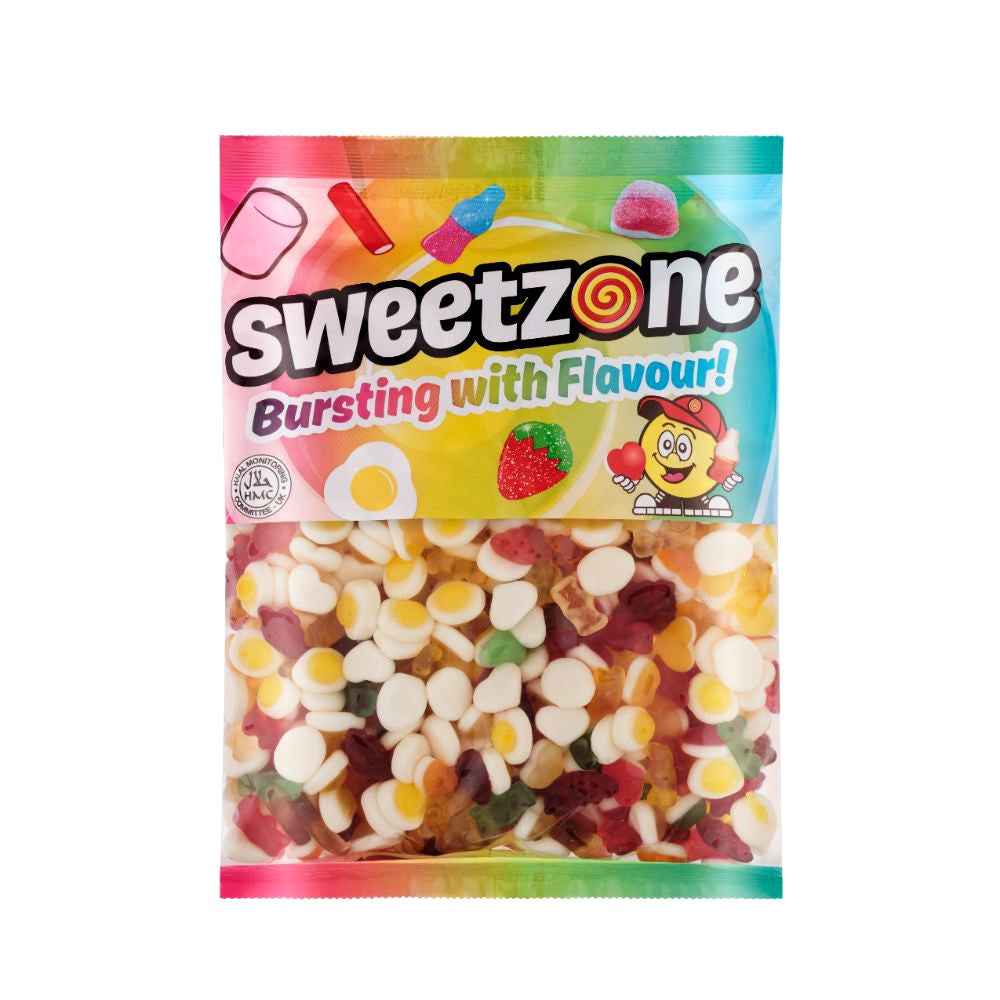 Sweetzone Party Mix Pre-Packed 1KG
🐝 Welcome to Little Bee Treats, the sweetest online shop buzzing with delightful confections! 🍭
Get ready to turn any occasion into a sweet sensation with Party Mix, a star-studded extravaganza of Halal certified jelly sweets! Manufactured by the renowned brand Sweetzone, this pre-packaged delight is here to take your taste buds on a playful adventure they'll never forget. 🎉🍬
Imagine a carnival of vibrant colors, irresistible flavors, and the assurance of Halal certification. Party Mix is a 1-kilogram extravaganza, carefully crafted to bring joy to every celebration.
At Little Bee Treats, we take pride in offering a diverse range of options to suit every taste and occasion. Party Mix is no exception. With its Halal certification, you can indulge in a world of mouthwatering flavors, knowing that every sweet has been prepared with care and consideration. We believe that everyone should be able to enjoy the fun of pick and mix sweets without compromising their values. 🍭🌟
But that's not all! Party Mix is part of a grand lineup of Sweetzone pre-packaged bags, designed to be mixed and matched for endless fun and mouthwatering combinations. Whether you're craving gummy sweets, fizzy treats, or other Halal certified delights, our value bags have got you covered. Mix and match with other Sweetzone 1-kilogram bags and unlock exclusive discounts, creating a personalized sweet experience that will leave you wanting more! 🛍️💰
And speaking of value, Party Mix and all our pre-packaged bags offer incredible value for money. We believe that delicious treats should be accessible to everyone, without breaking the bank. That's why we strive to provide great value bags that deliver an abundance of sweetness at affordable prices. It's our way of spreading joy and making every celebration extra special. 💰🎉
So, whether you're planning a birthday bash, a festive gathering, or simply want to add some sweetness to your day, our Party Mix is here to make every moment unforgettable. With its Halal certification, vibrant variety, and exceptional value, it's the perfect choice for those seeking delightful, personalized sweet experiences. Order now and let the party begin with Little Bee Treats! 🎊🐝🍬
Ingredients & Allergy Information

glucose syrup, sugar, beef gelatine (halal), dextrose, apple juice from concentrate (1%), citric acid, glazing agents (palm oil, carnauba wax) colours (E100 (ii), E160a (iii), E163, E141, E133, E102, E122*, E150a), flavourings. * consumption of E102,122 may have an adverse effect on activity and attention in children.
Due to the nature of the product, we do not accept returns.

All orders are processed and dispatched within 1 to 2 working days (excluding weekends and holidays) after receiving your order confirmation email. You will receive another notification when your order has shipped. 

Please ensure the shipping address is correct or this will result in delays receiving your order. We are not liable for postage charges due to the wrong shipping address.

We are not liable for 'missed/failed deliveries'. In the event you have missed your delivery and the order is returned to us, you will receive a refund, minus delivery and a 10% restocking fee.