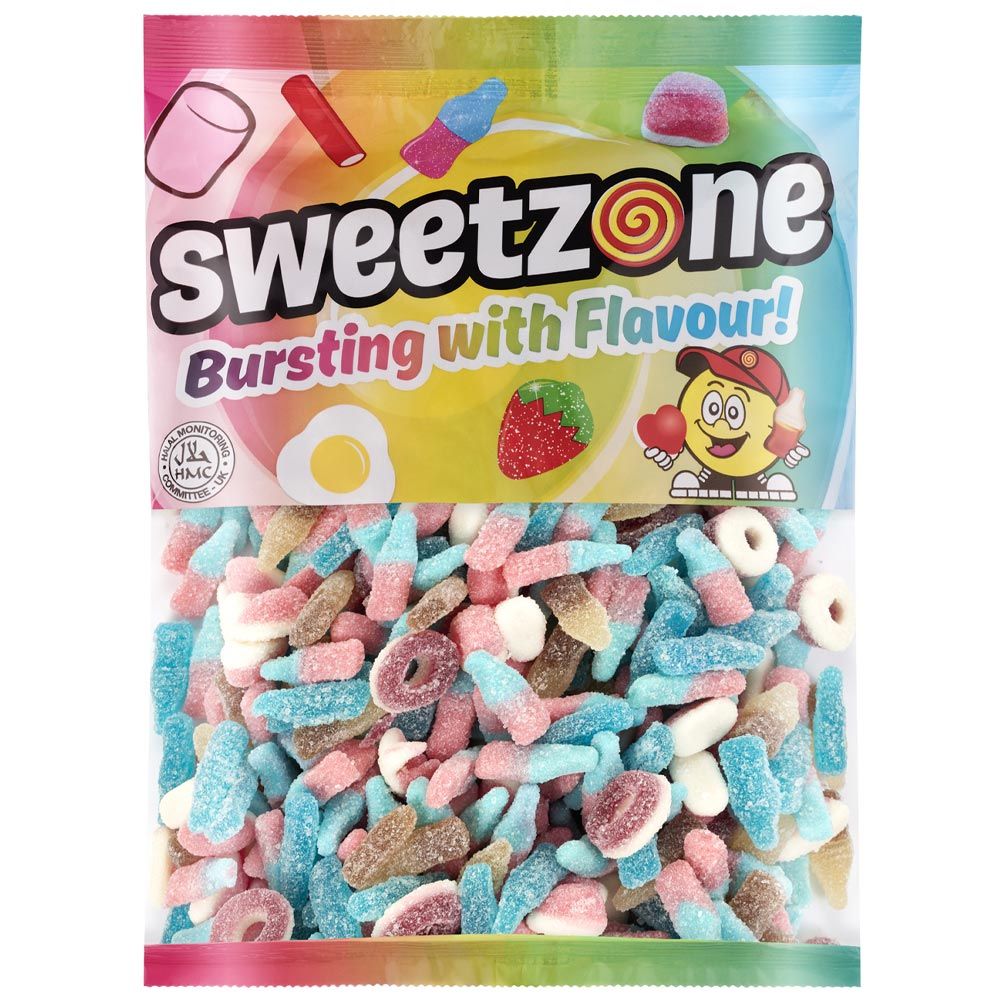 Sweetzone Fizzy Mix Pre-Packed 1KG
🐝 Welcome to Little Bee Treats, the sweetest online shop buzzing with delightful confections! 🍭
Get ready to experience the fizzy magic brought to you by the renowned brand Sweetzone. 🌟🍬
Picture this: a world of fizzy delights, crafted by experts and made to perfection. This Fizzy Mix is a 1KG extravaganza, packed with a tantalizing selection of Halal certified fizzy sweets that will make your taste buds tingle with joy. Each bite is like a mini explosion of fizzy wonder, delivering a symphony of flavors that will leave you craving more! 💥🍭
We're proud to stock Sweetzone, a well-known name in the confectionery world. Their commitment to quality and taste is unmatched, and the Fizzy Mix is a testament to their expertise. With their Halal certification, you can enjoy these fizzy delights with complete peace of mind, knowing that they meet the highest standards of quality and are suitable for all to enjoy. 
But wait, there's more! This Fizzy Mix is a versatile delight that can be mixed and matched with other Sweetzone 1-kilogram pre-packaged bags, allowing you to create your own sweet symphony and unlock exclusive discounts. Customizable sweet bags are our specialty, giving you the freedom to curate a personalized experience that suits your unique taste. It's the perfect way to explore a world of flavors and have a blast with every mouthful! 🛍️🎉
At Little Bee Treats, we believe that indulging in sweet delights shouldn't break the bank. That's why the Fizzy Mix, along with all our pre-packaged bags, offers incredible value for your money. These value bags are a true treat for your wallet, ensuring that you can enjoy the highest quality Halal certified sweets without compromising on taste or cost. We're committed to making sweet dreams come true for everyone! 💰🍬
So, what are you waiting for? Step into our virtual sweet shop and discover the fizzy wonderland of the Fizzy Mix by Sweetzone. Order now and experience the joy of Little Bee Treats' pick and mix delights, delivered right to your doorstep. It's time to savor the fizzy fun, embrace the Halal certification, and create sweet memories that will last a lifetime. Don't miss out on the value, the flavor, and the sheer delight that awaits you! 🐝🍭✨
Ingredients & Allergy Information

glucose syrup, sugar, beef gelatine (halal), corn starch, fruit juices (apple) (2%), citric acid, fumaric acid, malic acid, colours (E100 (ii), E160a (iii), E163, E141 (ii), E133, E171, E129*, E150a), flavourings. * consumption of E129 may have an adverse effect on activity and attention in children.
Due to the nature of the product, we do not accept returns.

All orders are processed and dispatched within 1 to 2 working days (excluding weekends and holidays) after receiving your order confirmation email. You will receive another notification when your order has shipped. 

Please ensure the shipping address is correct or this will result in delays receiving your order. We are not liable for postage charges due to the wrong shipping address.

We are not liable for 'missed/failed deliveries'. In the event you have missed your delivery and the order is returned to us, you will receive a refund, minus delivery and a 10% restocking fee.