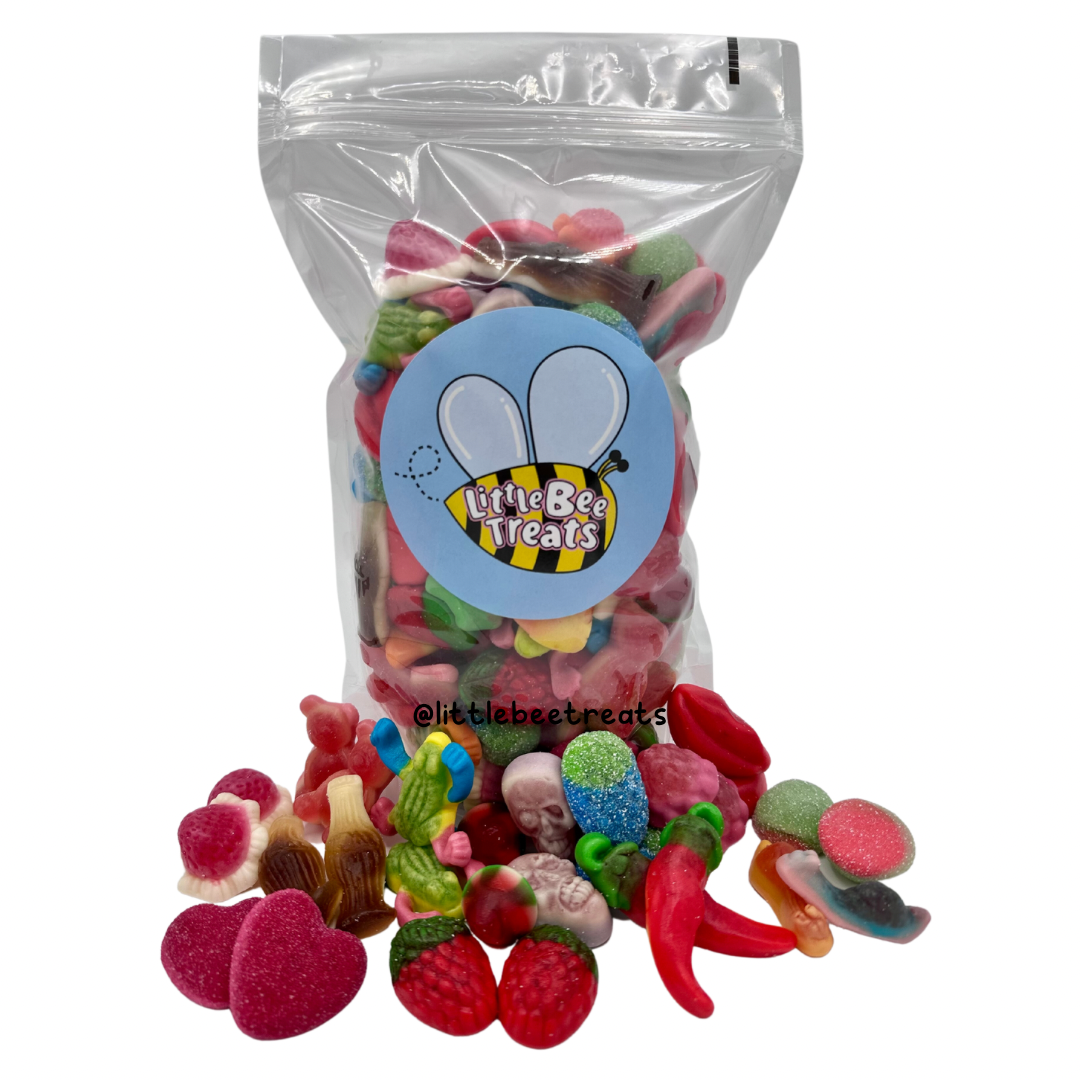 Bee Jelly-licious
Welcome to Little Bee Treats, the sweetest online shop where you can indulge in all your candy cravings! Are you ready to dive into our Jelly Filled mix? This is the ultimate go-to for those who love chewy, gooey, and fruity treats that burst in your mouth with every bite!
Our Jelly Filled mix is perfect for anyone who loves a surprise. You'll never know what you're going to get with this pre-set mix, but one thing is for sure - you're in for a treat! With a mix typically containing bears, frogs, lips, snails, strawberries, our all-time favourite: brains, and more, this bag is sure to satisfy your sweet tooth. Please note that the specific assortment may vary depending on stock and availability, ensuring each bag is a delightful surprise.
At Little Bee Treats, we know that everyone has different tastes, which is why we offer both pre-set and customisable sweet bags online. You can buy sweets online and choose from our range of vegan pick and mix, halal pick and mix, and personalised sweets.
Our Jelly Filled mix is available in three different sizes: 500g mini, 1kg midi, and 2kg maxi. The thick resealable pouches are perfect for sharing, or for keeping all to yourself. Plus, they're reusable - so you can enjoy our sweet shop online products even longer!
We want you to enjoy your sweet delivery from Little Bee Treats to the fullest, which is why we've made sure to list all allergens on our allergen & ingredient page. This mix contains gluten, soya, and milk, so please make sure to check before you indulge.
So what are you waiting for? Add our Jelly Filled mix to your cart and get ready for a burst of fruity goodness in every bite. At Little Bee Treats, we're dedicated to providing 5-star service and value for money to all of our customers. Treat yourself today!
May contain traces of GLUTEN and MILK
Glucose Syrup, Corn syrup, Sugar, Gelatine (pork and beef), Humectant: Sorbitol Syrup, Acids, Citric Acid, Malic Acid, Lactic acid, humectant: glycerol, Modified Potato Starch, corn starch, Invert Sugar Syrup, vegetable oils: coconut, rapeseed, Glazing Agent: Pectins, flavourings; Acidity Regulator, Sodium malates, Sodium Citrate; Flavourings; Glazing Agents: Coconut, Palm, Palm Kernel Oil, Carnauba, Beeswax, 11% strawberry juice from concentrate, Fruit and Vegetable Concentrate; Carrot, Tomato, apple, pumpkin, Lemon, safflower, Blackcurrant, Radish, Artificial and Natural Flavor, Colours (E100, E102, E110, E120, E122, E129, E133, E150a, E150d, E153, E171). Colours may have an adverse effect on activity and attention in children.
Due to the nature of the product, we do not accept returns.

All orders are processed and dispatched within 1 to 2 working days (excluding weekends and holidays) after receiving your order confirmation email. You will receive another notification when your order has shipped. 

Please ensure the shipping address is correct or this will result in delays receiving your order. We are not liable for postage charges due to the wrong shipping address.

We are not liable for 'missed/failed deliveries'. In the event you have missed your delivery and the order is returned to us, you will receive a refund, minus delivery and a 10% restocking fee.