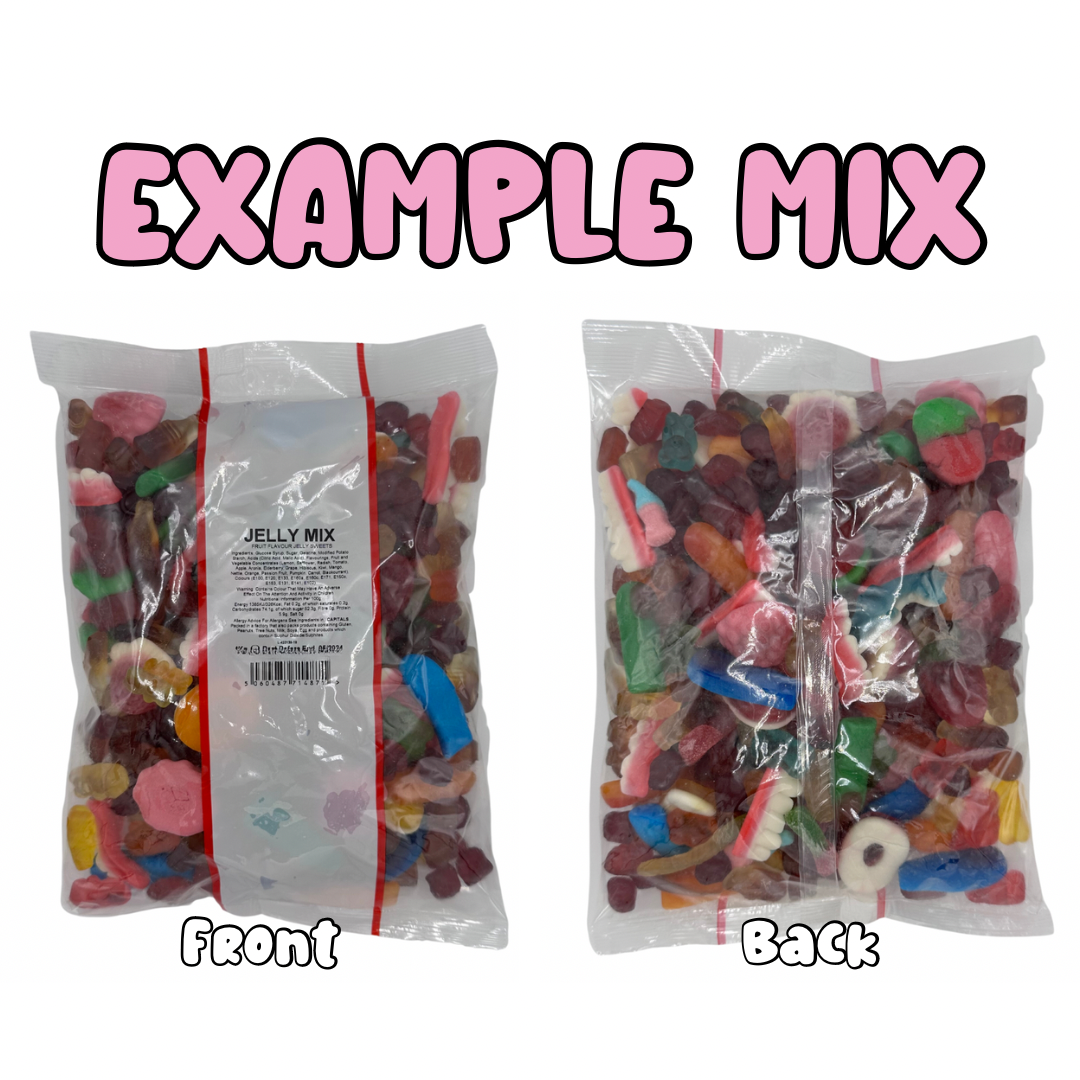 Jelly Assortment Pre-Packed 1KG
🐝 Welcome to Little Bee Treats, the sweetest online shop buzzing with delightful confections! 🍭
Introducing the pre packaged Jelly Mix, the ultimate adventure for your taste buds! Prepare to embark on a playful journey through a wonderland of jelly, foamy, and gummy-textured sweets that will have you bouncing with joy! 🌈✨
Weighing in at a marvelous 1KG, this pre-packaged mix is a treasure trove of confectionery delights. Dive into a world where squishy, bouncy, and chewy textures collide, creating a symphony of sensational flavors that will make your taste buds do a happy dance. 🎉🍬
Here's the scoop: this Jelly Mix is like a carnival in a bag! Bursting with a delightful assortment of jelly, foamy, and gummy treats, it's a paradise for sweet enthusiasts of all ages. Imagine sinking your teeth into juicy jelly bites, savoring the melt-in-your-mouth goodness of foamy treats, and experiencing the satisfying chewiness of gummy confections. It's a rollercoaster ride of taste and texture that will keep you coming back for more! 🎡🍭
Before we continue, let's address the Disclaimer, because honesty is our policy. While we don't personally make this mix ourselves, we ensure it's expertly packaged in a factory. Therefore, the images you see are for illustration purposes only. But fear not! The contents of your Jelly Mix will be a delightful surprise, packed with a vibrant assortment of jelly, foamy, and gummy-textured sweets that will satisfy your every craving! 🎨🍬
And guess what? This Jelly Mix has taken the sweet-loving world by storm and become a viral sensation on TikTok! Join the trend and let your taste buds join in the fun! 📱🎥
But that's not all! These pre-packaged bags are designed to be mixed and matched, allowing you to create your very own sweet symphony. Combine the Jelly Mix with any of our other 1KG prepacked value bags and unlock exclusive discounts! Customizable sweet bags are the heart and soul of Little Bee Treats, and we want you to experience a world of endless possibilities, one delicious bite at a time. 🌈🛍️
At Little Bee Treats, we believe that a sugary smile shouldn't break the bank. That's why this Jelly Mix, along with all our pre-packaged bags, offers outstanding value for your money. These value bags are a true treat for your wallet, ensuring that you can indulge in sweet delights without a worry. We want everyone to experience the sheer joy of Little Bee Treats, without compromising on quality or taste. 💰🍭
So, what are you waiting for? Jump into our virtual sweet shop, explore the captivating world of the Jelly Mix, and let your taste buds go wild with excitement! Order now and discover why Little Bee Treats is the go-to destination for all your pick and mix desires. Get ready for a sweet adventure that will leave you craving more, one jelly, foamy, and gummy treat at a time! 🐝🍬✨
Ingredients & Allergy Information

Glucose syrup, sugar, gelatine, modified potato starch, acids (citric acid, Malic Acid), flavorings, fruit and vegetable concentrates (lemon, safflower, radish, tomato, apple, aronia, elderberry, grape, hibiscus, kiwi, mango, nettle, orange, passionfruit, pumpkin, carrot, blackcurrant), colours E100, E120, E133, E160a, E160c, E171, E150c, E153, E131, E141, E102. 

Packed in a factory that also packs, products containing gluten, peanuts, tree nuts, milk, soya, egg and products contain sulphur dioxide/sulphites.

Little Bee Treats is unable to accept liability for any incorrect information.
Due to the nature of the product, we do not accept returns.

All orders are processed and dispatched within 1 to 2 working days (excluding weekends and holidays) after receiving your order confirmation email. You will receive another notification when your order has shipped. 

Please ensure the shipping address is correct or this will result in delays receiving your order. We are not liable for postage charges due to the wrong shipping address.

We are not liable for 'missed/failed deliveries'. In the event you have missed your delivery and the order is returned to us, you will receive a refund, minus delivery and a 10% restocking fee.